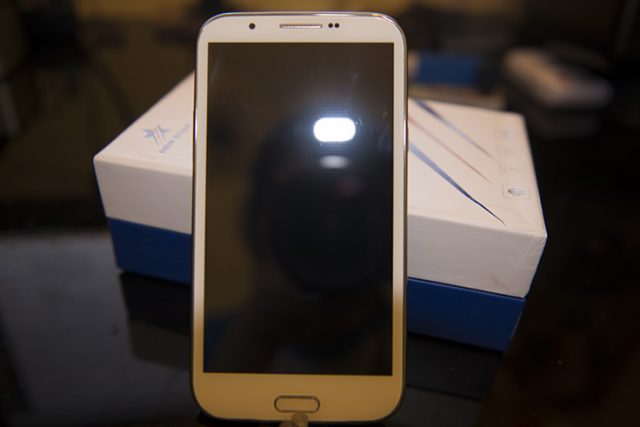 The Star N9599 is one of those "imitation" phones that is designed to look like certain other flagship phones. To be specific, upon looking at the N9599, you will immediately think of the Samsung Note 2. It even has a pen available but do note that it does not function as a "S-Pen" of any sorts. The phone isn't exactly one of those clone devices because it is not marketed to be one. When looking to buy one such device, you will find that the phone is advertised as per a normal android device. It doesn't say anything about looking identical to whichever phone or performing the functionalities of such phones. It is simply an android phone that looks similar to the Samsung Note 2. That is all. In terms of performance, do read on for the full review.
Phone Specifications
| | |
| --- | --- |
| General Info | |
| Brand | Star |
| Model | N9599 |
| Dimensions | 157x83x10.5mm |
| | |
| Network | |
| SIM | Dual-Sim Standby |
| 2G Network | GSM 850/900/1800/1900MHz |
| 3G Network | WCDMA 850/2100MHz |
| | |
| Display | |
| Size | 5.7" |
| Resolution | 720*1280 |
| Type | IPS w/ some protective glass |
| | |
| Hardware | |
| CPU | MTK6589 |
| GPU | PowerVR SGX544 (Single) |
| | |
| Memory | |
| RAM | 1GB |
| ROM | 4GB |
| Expansion | MicroSD up to 32GB |
| | |
| Camera | |
| Front | 5.0MP |
| Back | 8.0MP w/ LED Flash Light |
| Video | 1080P @ 30FPS |
| | |
| Features | |
| OS | Android 4.2.1 (rooted) |
| GPS | Yes w/ A-GPS amd EPO assistance |
| WLAN | 802.11 b/g/n |
| Battery | 3800mAh |
| Bluetooth | v4.0 |
| USB | microUSB 2.0 |
| Others | FM Radio |
Video Review
Written Review
Do note that the phone is running stock firmware (Android 4.2.1) and is tested as it is out of the box.
Packaging and Accessories
The phone comes in a generic looking box that if not for the aesthetic, feels of pretty decent quality. Apparently, the phone comes in different packaging depending on the retailer. Not sure what exactly is the distribution system like for the phone and the manufacturer but looking at other people's photos and videos online tells me such information. So yes your box may vary.
Inside the box, you will find the phone in all its glory. It is covered with your usual plastic wrap with some sticker on the phone's screen that gives you information of the different buttons available on the phone. Lifting the phone and its holder up, you will find yourself the standard accessories provided for most Chinese phones. You get a flip cover, plastic back case, charger, USB to micro-USB cable, a pair of earphones, an additional battery and an instruction manual.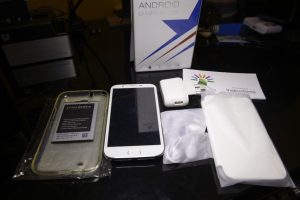 The earphones this time around feel extremely cheap and is definitely of lower quality compared to the other phones that I have reviewed. The cable is thinner and the plastic housing feels rather fragile. The charger provided is pretty standard with an output of slightly higher ampere (800mA) as compared to a normal USB port. The micro-USB cable is of similar quality to the previous phones I have reviewed. All in all pretty standard stuff, nothing too outstanding or appalling to point out. I do have to say though that the packaging in terms of the box quality is rather surprising. It has some heft to it giving it a more expensive feel. Now that's just the box though but hey it's a detailed review after all right?
Design and Build Quality
As mentioned already, the phone's design looks very similar to the Samsung Note 2. Button placements and ports are pretty much on your usual locations. You have the power button at the right, volume rocker at the left, 3.5mm audio jack at the top and lastly the micro-USB port at the bottom. You do of course have the pen holder at the bottom right (don't bother with that). At the front of the phone you have your front camera, a home button and to its sides a capacitive button each.  Moving to the back of the phone you get your camera in the top middle and to its right a LED flash light. Slightly below it you have an android logo (not even the company's own brand. Pretty weird but apparently this is normal for their phones) and towards the bottom a speaker grill for sound output.
Design wise it is pretty much okay. I have no problems with the placement of buttons etc. It looks like the every other smartphone. I do have to complain (like I will for every other smartphone that does this) about the speaker placement. With just one speaker output at the back, sound is extremely soft (should you use speaker mode) and will certainly be blocked unless held in a very specific manner.
The phone has some heft to it and while this technically does give it a more expensive feel, the overall construction of the phone using plastic does make it feel otherwise. By all means this does not mean that the phone is built terribly. It just simply does not feel premium. The front of the phone is supposedly covered with some kind of glass (not sure if gorilla glass) which is good in a sense that it protects your display. The back cover is made of flexible plastic but don't go bending it too much as it is rather thin and don't seem too strong as compared to say the type of plastic used by Samsung for the Galaxy phones. Overall, the build quality is pretty decent if you consider the price you are paying.
Display
The display is a 5.7" 720p super IPS screen (as advertised). If you're considering the wide viewing angles of an IPS display then yes the phone does have that. In terms of color and contrast, the display is slightly disappointing. The colors do look slightly washed out if you're accustomed to newer display technologies (mostly your 1080p displays and whatnots). Unfortunately, I do not have a similar size and resolution display device to compare. I did try comparing it with my Samsung Galaxy Note 10.1 (first edition the N8000) and yes it does fall behind a little.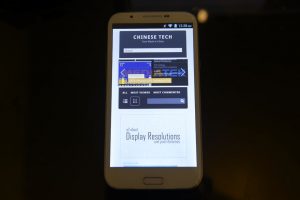 However, this will not mean that your viewing pleasure will be hindered or reduced by much as the large screen size does make it more appealing for watching videos and viewing photos. Even playing games on the device is pretty enjoyable too. Unless you are going to view videos or photos that are of extremely high quality and resolution (why bother using a phone in that case), you will not really find the display to be lacking. Ultimately, what I'm saying is that there are definitely better phone displays out there but overall the display does work alright and carry out its function well. In terms of functionality of the touchscreen, it works without any hiccups.
Synthetic Benchmarks
Phone Performance
The phone performs well both as a traditional and a smart phone. Because of the reduced display resolution, it is less taxing on the phone's hardware. The MTK6589 processor chip together with the SGX544 (single-core) GPU does a great job on such a display resolution. Everything works smoothly and the phone is always responsive. In terms of phone functionality (phone calls, messaging etc) it does what a phone should do. Signal strength is decent for both mobile line and wireless internet. The phone does have rather low native internal storage. Thankfully it has a microSD slot for expansion so space shouldn't be too much an issue.
In terms of battery life, I have yet to actually tax it realistically (using it as a mobile phone that is) to find out the full worth of the battery. That said, the 3800mAh battery should last you for a day worth of phone activities. I have watched videos on it for hours (roughly 4 – 5 hours) and the battery still remained rather healthy. It has a moderately better battery life than the THL W8S (in terms of similar usage, the THL W8S lasted for 7 hours of extensive usage with mobile connection on) so do use that that as a benchmark.
For those wondering about the GPS of the phone, it does work alright after using the GPS fix. Yes the GPS fix does work on this phone model. That said, don't rely on it too heavily as it is definitely lacking should you compare to the GPS of other flagship devices.
Gaming Performance
Most games can be played rather smoothly on the phone. The main reason is because the phone is only running at 720p resolution. So yes most games can run rather smoothly. That said, I do find that some games fail to load at times and thus cannot be played. Several restarts will solve the issue temporarily but yes it can be rather irritating and frustrating. When loaded though, the game does run rather smoothly. One example would be Riptide GP2. Sometimes it loads, sometimes it doesn't. It shouldn't be the graphics or CPU processors being the problem since they are pretty much identical to the ones used in many other phones that can play them.
Camera
The "8.0MP" camera at the back is surprisingly decent. Under settings with a decent amount of light, your pictures will turn out rather nicely. Using the HDR function, you will be able to capture and produce images (especially when taking sceneries) that looks extremely vibrant and full of contrast. The really weird thing about the camera of this phone (not sure if just me being lucky or the case for every single one of them out there) is that despite having an 8.0MP camera (checked system properties and it says so as well), images captured can be at a much higher resolution. It is an option available in the camera app to have the photos in "13.0MP". Not sure how that works out with an 8.0MP camera, maybe some photography experts can shed some light on this. All I do know is that the camera on the phone performs as well as those 13.0MP cameras on your higher end Chinese phones.
Video capturing is done pretty nicely as well. The weird thing though (the camera has lots of surprises huh) is that when activating video recording, your camera will seem to be zoomed in by quite a bit. Not sure what the issue is here but do take note of that.
Under low light settings, the camera suffer the same problems as most Chinese phones out there. Image quality will not be good but should be enough for you to recognize and tell what the picture is about. Overall, I'm deeply impressed with the camera on the phone. It certainly is better than its paper specifications.
Download unedited photos: Mirror 1
Official and Community Support
I tried my best to find the official manufacturer or company's website behind the phone (New Star / Star should be the company's English name. I do have its Chinese name as well but even searching on Chinese search engines yielded no results) but I failed. If any of you do know their website URL do let me know. Other than that there seems to be one XDA thread on the phone and that's about it. Common tools and mods designed for MTK6589 devices should work on the phone. The standard rooting apps work as well.
Conclusion
The Star N9599 is a phone with decent specs. Despite having a slightly inferior screen compared to what we have available today, the 720p resolution might come as an advantage for those people who wants to compensate a lower resolution display for better overall performance. The phone does have an updated version with the turbo processor (MTK6589T) and can also be considered. Otherwise for the price that you are paying for, the Star N9599 is a decent purchase. This is especially so considering the limited options available for those who want a quad core processor with a 720p screen.