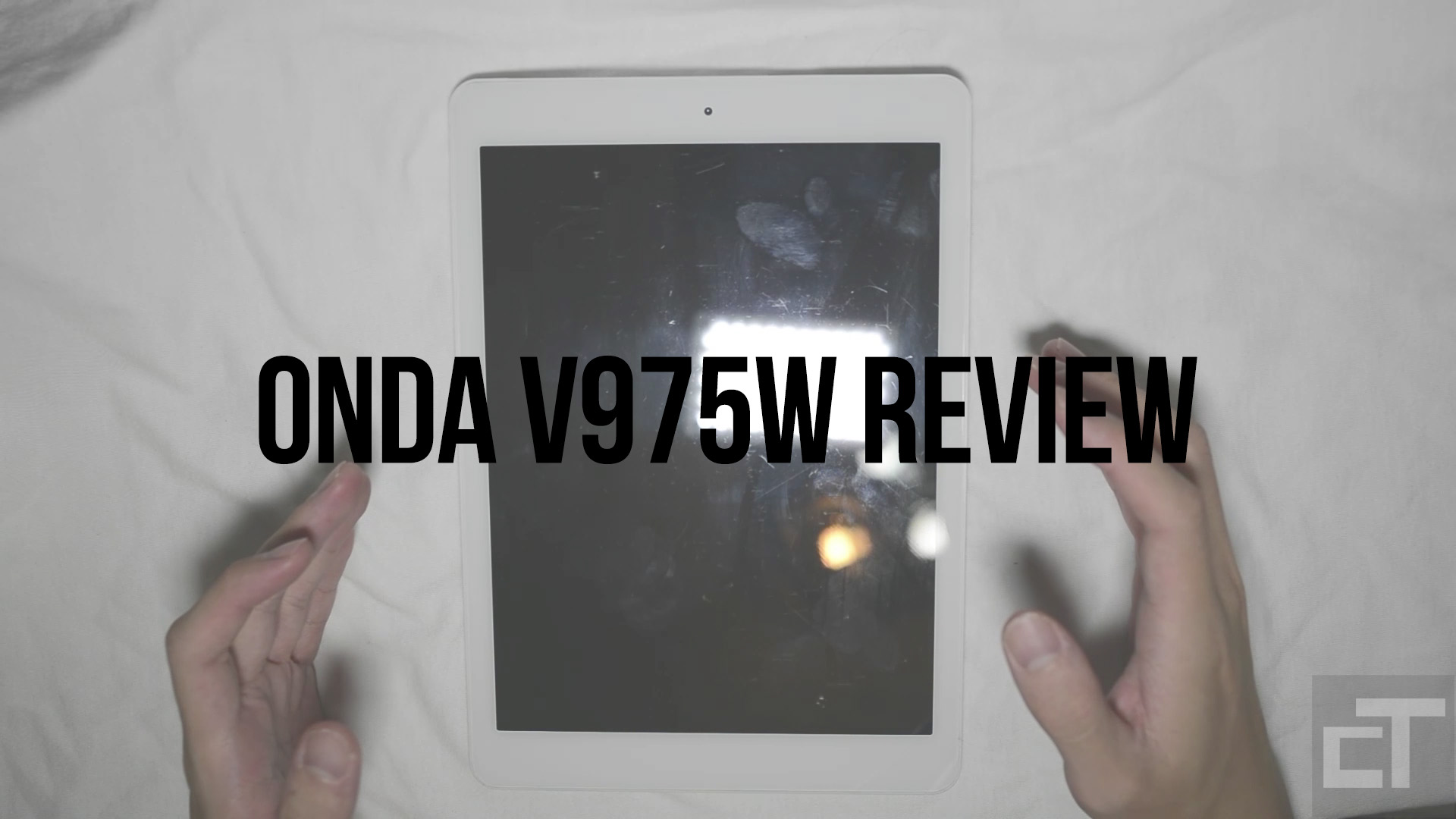 The Onda V975W is a Windows based tablet that runs on an Intel Atom Z3735. Do not mistaken it for the Windows RT tablets that were released years back. This tablet runs a full fledge Windows 8.1 that you see in your everyday laptop computers and PCs. Hopefully the manufacturer releases an update for Windows 10 but one can only wait. It is a relatively cheap device considering the market it is competing in. How exactly does it perform? Read on to find out more.
Tablet Specifications
| | | | |
| --- | --- | --- | --- |
| General Info | | | |
| Brand | Onda | | |
| Model | V975W | | |
| Dimensions | 241 x 169 x 8.5mm | | |
| | | | |
| Network | | | |
| SIM | - | | |
| 2G Network | - | | |
| 3G Network | - | | |
| | | | |
| Display | | | |
| Size | 9.7" | | |
| Resolution | 1536 x 2048 | | |
| Type | IPS LCD | | |
| | | | |
| Hardware | | | |
| CPU | Intel Atom Z3735F | | |
| GPU | Intel HD Graphics | | |
| | | | |
| Memory | | | |
| RAM | 2.0 GB | | |
| ROM | 16/32 GB | | |
| Expansion | microSD | | |
| | | | |
| Camera | | | |
| Front | 2.0 MP | | |
| Back | 5.0 MP | | |
| Video | 1080P @ 15 FPS | | |
| | | | |
| Features | | | |
| OS | Windows 8.1 | | |
| GPS | None | | |
| WLAN | 802.11 a/b/g/n 2.4 GHz | | |
| Battery | 7800mAh | | |
| Bluetooth | v4.0 | | |
| USB | microUSB v2.0 (OTG) | | |
| HDMI-Out | Yes via mini-HDMI port | | |
Video Review
Written Review
Packaging and Accessories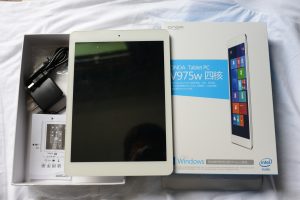 If you have taken a look at the unboxing video, you should notice that there isn't anything special or unique included together with the V975W. You are provided with the standard set of accessories you would in any tablet or smartphone purchase in this day and age. You get an OTG cable, a microUSB data and charging cable, a wall adapter and some manuals. The device is nicely packaged in a standard box with flashy logos and pictures at the front and sides. I must say that it does leave me with a decent first impression. Do note that buying from some resellers or retailers will allow you to bundle it with compatible keyboard cases and whatnot. I do highly recommend you getting a physical Bluetooth keyboard to go along with it if you are serious in using the tablet for light work.
Design and Build Quality
The V975W looks almost like an iPad. Design inspiration or purely imitation? Well of course it does have the other ports that an iPad does not have such as a mini-HDMI out, microSD card slot and the microUSB charging and OTG port. The tablet when first touched felt sturdy and strong. While the aesthetic of it is pretty much common beyond words, I must admit that the materials they used to build the device must be pretty good. The back of the tablet especially feels really nice to touch and hold. The buttons at the right side of the tablet have a nice tactile feedback to it and works as intended.
After using it for some time, I do believe that the tablet can last for a while and considering the price you are paying, the value that it provides is pretty high up there in the charts. If you're looking for something that looks better or interesting, this tablet will not please you. For everyone else, the V975W is a well-built tablet that looks like an iPad.
Display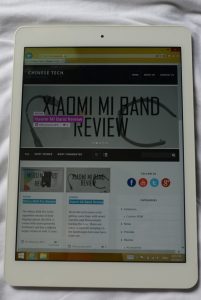 The V975W has a "retina" resolution display (2048×1536, 4:3 ratio) that looks great. Colours are vibrant, text reproduction is extremely sharp and crisp and brightness levels are decently dim at the minimum and bright enough at the maximum for usage in most if not all kinds of environments. I am thoroughly impressed with how the tablet is able to keep up with the high resolution despite the lower hardware specifications built within it. I guess I am not doing any graphically intensive activities to warrant much stress on the tablet but hey, it works smoothly and the display quality is very good.

Tablet Performance
Productivity
Most of this review is typed out and worked on using the tablet itself. It certainly is powerful enough for basic workload and day to day office related kind of tasks. I must say that I am thoroughly impressed with the sheer performance and capability of this small device. The Windows OS platform also helps a lot as you get to use all those native applications that you normally would do in work and school. Do not, however, expect to do heavy excel tasks as the tablet will certainly slowdown and not perform its greatest.
Multimedia
If you're looking to use the tablet for your web browsing needs, the Onda V975W will certainly deliver a pretty favourable and enjoyable experience. I have used the device to watch video game streams such as twitch, watch videos on YouTube and browse my local forums with ease and smoothness. Videos do play rather smoothly on the tablet as well using VLC media player.
It is good to note though that as it is in a Windows OS environment, having just a touch screen as your means of navigating may be less intuitive and comfortable as compared to say IOS and Android based tablets. It will take some time getting used to but I am not going to comment much on that as that's ultimately the OS side of things and nothing to do with the tablet. In fact, I believe there is a variation of the tablet that dual boots both Android and Windows. You might want to take a look at that as well.

WiFi
WiFi signal strength on the device is not the best. In fact, it is considered quite weak as compared to many devices out there. I believe that this is one of main problems with Chinese tablets in the market. While I do not have any other Windows tablets to compare, the Xiaomi MiPad I have at hand not only supports 5GHz bandwidth and wireless AC, the signal strength it receives is much better than the Onda V975W. When it gets a full signal the WiFi works fine. Go any further or have any other obstructions along the way and watch the performance suffer.
Here is a table comparing some of the few devices I have to show the speed differences. All devices are connected to the same network from an identical location and on the same bandwidth (2.4GHz), using speedtest.net as the benchmarking tool.
| | | |
| --- | --- | --- |
| Device | DL (Mbps) | UL (Mbps) |
| Onda V975W | 25.68 | 14.24 |
| Elephone P7000 | 31.35 | 32.81 |
| Xiaomi MiPad | 40.63 | 79.95 |
| Meizu MX4 Pro | 32.43 | 50.74 |
This can be quite troublesome especially if you rely on the cloud for your data and files. Trying the tablet at home, I am unable to stream videos off my NAS (720p resolution). That said, it is sufficient enough to watch YouTube videos and game streams, just not at the best quality.
Tablet temperature
Do note that the V975W can get relatively hot especially if it is used while charging. I do not believe anyone would actually use the tablet for such a long time to work on anything though so this should not be too much a problem. For those who are planning to use the tablet as their main device for work and play, you might want to keep the device cool by having a fan blow on it or used it in an environment that is not too hot.
Lack of storage space
The amount of built in storage space is extremely limited and after installing some of the more useful applications say Microsoft office, you are left with a mere 10GB of space to play with. Do not expect to use the external storage as a destination to install your programs and it would simply not work. That said, 10GB should be more than enough to install most if not all of your productivity applications that you may want to use on the tablet. Data and other media files can be stored and accessed from the external storage without any problems.
Battery Life
Battery life on the V975W is decent in my opinion. The tablet lasted a total of 10 hours from full charge to roughly 5% of battery left. Among these 10 hours, 2 hours are used for light workload (typing a word document, browsing the internet) and another 2 hours are used for heavier workload (watched an entire movie). The rest is with the tablet screen turned off (Windows sleep mode). I do not have any other Windows tablets to compare with but putting it against the other tablet I've reviewed (the Xiaomi MiPad), the battery performance while not being as good, is certainly sufficient especially considering the things that were done on the tablet. It lasts much longer than my laptop (though vastly more powerful) and considering the jobs and tasks that might be carried out with the tablet, I do believe it is good enough.
This section will be updated accordingly when I get to play and use more Windows based tablets.
Gaming Performance
While the Intel Z3735 is capable of running simple games smoothly (heck even more advanced ones can be played with graphical settings turned down), there is not enough storage space to install much if not any of the games. If you would like, you can probably play one game at a time but good luck trying to store multiple games on the tablet at the same time (programs will not run properly if they are installed on the SD Card). It is thoroughly impressive how technology has come so far to see such power packaged in a small footprint. Do take a look at the video review to see me play through some games.
Overall, you can certainly game on the tablet (most Windows platform games) with the less graphically intensive ones running smoother. Do be prepared to hook up a mouse though as using the touch screen as a means of control is practically impossible (except for games that are designed specifically for touch devices, meaning the games downloaded through the Windows marketplace).
Camera
Take a look at the sample photos and videos if you must. The tablet does have both a front facing camera as well as a rear camera but do not expect to take beautiful pictures with them. The best usage of the camera is basically to take quick photos of things you might want to take note of and then editing it or pasting it within a document or application. It works great in such a fashion but other than that, meh.
Video Recording Sample:
https://youtu.be/M-pbeHmNO6s
Camera Shots Sample:
Download unedited photos: Mirror 1
Official and Community Support
The official site and forums are only in Chinese. They seem to be pretty active and they have official drivers and updates for their devices as well. The support from the manufacturer themselves seem to be decent and for those looking for English communities, there are a few present as well. Do not expect much custom ROMs or anything of that sort for the V975W.
In terms of peripherals and accessories, there are generic products out there that should work perfectly fine with the tablet. Simply get those that supports the device size and you should be good to go. I myself am currently using this keyboard case for 10 inch tablets and it works perfectly fine. There are cases designed for Onda range of tablets and you can easily get them online as well.
Conclusion
The Onda V975W is a great value for money Windows tablet that will be extremely compatible for people who are looking for a small lightweight device to do their light workload. For people studying, I find it extremely convenient to have such a device by my side. Being able to refer to documents and whatnot easily without fearing much incompatibility is useful. Everything on this tablet performs remarkably well except for the WIFI. Keep your data and files local and you should be fine for most parts. Those looking for a casual device just for entertainment, I do recommend getting an Android or iOS tablet instead as the Windows platform does not have much applications or games for mobile devices.
[starreviewmulti id=1 tpl=31]