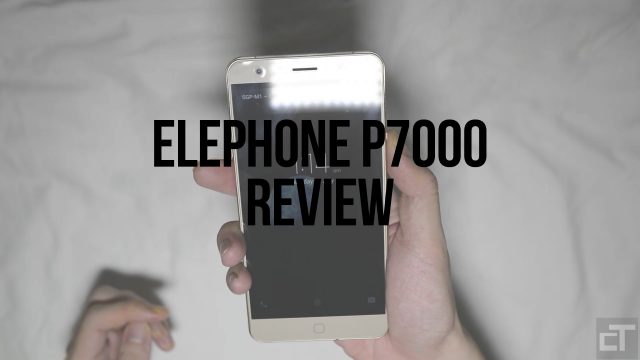 The Elephone P7000 is one of the first few Chinese phones in the market to house a 64-bit processor (MTK6752 by Mediatek) and is running on Android 5.0 Lollipop out of the box. While Elephone does not make their own custom Android OS, their phones do support a wide range of custom ROMs out there and can be easily obtained and flashed on the phone. Do note that I am running the stock ROM (pretty much stock Android 5.0) for the review. The P7000 does not cost much and yet houses some beefy hardware. How does it perform? Read on or watch the video to find out more.
Phone Specifications
| | | | |
| --- | --- | --- | --- |
| General Info | | | |
| Brand | Elephone | | |
| Model | P7000 | | |
| Dimensions | 76.3 x 155 x 8.9mm | | |
| | | | |
| Network | | | |
| SIM | Dual SIM Standby (Micro SIM + SIM) | | |
| 2G Network | GSM 850/900/1800/1900MHz | | |
| 3G Network | WCDMA 850/900/1900/2100MHz | | |
| 4G Network | FDD-LTE B1/3/7/20 | | |
| | | | |
| Display | | | |
| Size | 5.5" | | |
| Resolution | 1080 x 1920 | | |
| Type | IPS w/ Gorilla Glass 3 | | |
| | | | |
| Hardware | | | |
| CPU | MTK6752 | | |
| GPU | Mali-T760 MP | | |
| | | | |
| Memory | | | |
| RAM | 3GB | | |
| ROM | 16GB | | |
| Expansion | microSD (up to 64GB) | | |
| | | | |
| Camera | | | |
| Front | 5.0MP | | |
| Back | 13.0MP | | |
| Video | 1080P @ 30FPS | | |
| | | | |
| Features | | | |
| OS | Stock Android 5.0 | | |
| GPS | Yes w/ A-GPS | | |
| WLAN | 802.11 b/g/n @ 2.4/5.0GHz | | |
| Battery | 3450mAh | | |
| Bluetooth | 4.0 | | |
| USB | microUSB w/ OTG | | |
| FM Radio | Yes | | |
| Fingerprint Scanner | Yes | | |
Video Review
Written Review
Packaging and Accessories
The P7000 comes packaged in a premium looking box that provides pretty much the standard few accessories that a phone normally comes with. Inside the box you will get the quick start guide, a microUSB to USB charging and data cable and a wall adapter. Some retailers/resellers will provide free screen protectors (not sure if this is by Elephone or the resellers) and additional accessories like a case of some sorts. The one I purchased from a local reseller does come with a screen protector but not the case.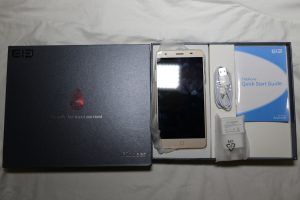 Overall, it does give a really good first impression (the box that is) but the accessories inside is standard and nothing too amazing. Quality is alright (similar to generic cables and adapters you can buy cheaply online) considering the price that you are paying.
Design and Build Quality
The P7000 comes in three different colours: black, white and gold. The phone I got is gold in colour and it looks neat and a little more unique as compared to the more common black and white. I really like the button placements for the volume rocker and the power button. The volume controls are at the left side of the phone while the power button on the right side, making it really comfortable to use without mistakenly pressing an unwanted button.
The speakers are placed at the bottom of the phone and while I particularly prefer front facing ones, it is still better than manufacturers who continue to place speakers at the back. The main problem, however, with bottom placed speakers is that should you do anything that requires you to hold the phone in a controller grip, you might cover up the speakers entirely thus blocking the sound. In most other cases like watching videos it should be fine though.
Speaking about the back, you will see something slightly different in the sense that the P7000 features a fingerprint reader right below the rear camera. I do understand how this will work pretty well in terms of ergonomics but the placement of the reader is made in such a way that using it becomes inaccurate (at least for me). I find myself struggling to unlock my device despite recording 3 different fingerprints of the same finger. It just doesn't work well at least for me.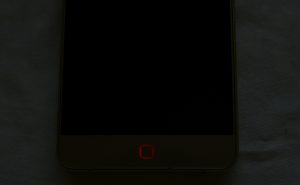 What I really appreciate about the P7000 is the presence of 3 capacitive buttons at the front. I really enjoy being able to use the back and menu buttons that make Android OS so intuitive in that sense. I do prefer having all the screen for content rather than having a navigation bar. One last design feature of the phone is the home button that also acts as a notification LED. It shines brightly and can display a range of colours. It is definitely one of the more functional and aesthetically pleasing notification light.
While the P7000 has a plastic back, it has this metal banding that surrounds the phone and that gives the phone rigidity and solidness. The front display is also apparently protected by Gorilla Glass 3. Overall the build quality is decent and feels like a solid phone that will last for quite some time.
Display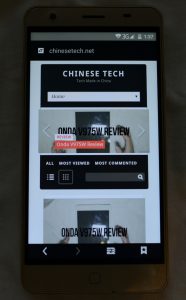 The display on the P7000 is a 1920×1080 resolution 5.5" IPS screen protected by Gorilla Glass 3. It has great viewing angles and colour reproduction. Brightness levels are decent enough at both ends and will allow you to use them comfortably whether in direct sunlight or absolute darkness.
Synthetic Benchmarks
Phone Performance
The P7000 performs smoothly and steadily in all kinds of activities be it normal phone operations, gaming and consumption of media content. Call quality is great on the phone with no signal lost in both the incoming and outgoing calls I've taken on the phone. Signal strength for both mobile data and WiFi is decent as well and receives similarly to all of the other phones that I've review previously. Web browsing and videos all work without a hitch too.
GPS on the P7000 works much better than previous generations of Mediatek powered phones. GPS locks within seconds and then tracks with good accuracy. You can definitely rely on the GPS on this phone to navigate yourself around places.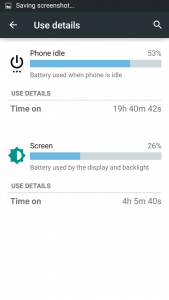 The P7000 has a relatively large capacity battery and the battery life speaks for itself. Heavy users rejoice as the battery in my time of testing can certainly last a long time. Even if it doesn't, you have the option to bring along optional batteries as, yes, the battery is removable. I managed to pull out 4 hours of screen-on-time watching videos and live streams while still having 15 hours of standby time. During this standby time, I did receive a few calls here and there and replied to messages on WhatsApp and so on. This is all done while my phone was connected via data and not WiFi (data uses more battery as compared to WiFi). Will it last a whole day for you? Most probably yes for the majority of you.
Gaming Performance
Tried Minecraft on the P7000 and it performs rather ok but there are still some FPS drops here and there. It is definitely playable but considering the resolution of the display, I would have expected more out of the GPU. Minecraft isn't as optimized as it should have been but I've seen devices that can run it extremely smoothly (MiPad for example). Every other game I tried works flawlessly. You can take a look at some gameplay footage from the video review.
Camera
The rear camera is decent enough for you to take photos worthy to be shared among your family and friends. It is definitely not something that stands out in the market at the moment (lack of features such as 4K video recording, slow motion and all that camera gimmicks) but despite that, it gets the core job of taking simple photos and videos done alright.
You can take a look at some of the photos that I've taken at the Zoo. For the unedited copies, do download them in the links below.
Download unedited photos: Mirror 1
Official and Community Support
The official support (in English language) for the P7000 is one of the best I've ever seen in the Chinese phone market. Their official forums is active and you get to download and try out so many different custom ROMs for the phone. Each phone model has its own sub forum and the more popular models (like the P7000) have lots of users participating and providing support to one another. Even their official website has a section dedicated to the different popular ROMs out there and telling you which devices are supported. This is one of the few Chinese phones out there that have such great support especially for custom ROMs.
For community support besides the official forums, XDA forums does have a device forums catered to it. It isn't that active though but I would think that heading to the official forums and simply asking your questions there should suffice.
In terms of peripherals and accessories, a simple search online will get you plenty of back cases, covers and whatnot. There is a great variety for you to choose from and they don't cost much as well.
Overall, I'm thoroughly impressed with what I'm seeing here. Even though I've yet to flash any other custom ROMs (I will in due time), it is just amazing to see everything already out there easily accessible and ready to be used.
Conclusion
The Elephone P7000 is a good phone that is priced slightly at the lower to medium end price range. For the price you are paying, you get some pretty good hardware that performs really well. Applications and games all run smoothly, core phone functionalities perform as expected and the camera does its job. Build quality on the phone is sturdy and strong and will be sure to last. The presence of removable battery as well as microSD storage expansion will be a great value add for some people. What makes this phone outstanding though is the support rendered by the community. You get to choose from so many different custom ROMs to flash and play with. Even if you were to stick with the stock Android ROM, it is awesome as well.
This phone is definitely for those of you who have some budget to play with but not willing to spend too much. For those of you who are more adventurous and wanting to try some of the Chinese ROMs out there, this phone has some of the best support available for it.