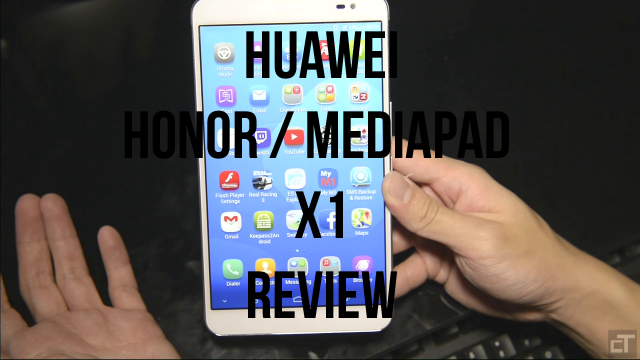 The Huawei Honor X1 (also known as the Mediapad X1 internationally. No difference except the name.) is a 7.0" tablet cum phone. It has the ability for you to make calls and do phone stuff. Some people call such hybrid devices a "phablet" and I have been using it as one. Does it perform well as a phablet? Or what about its performance should it only be considered as a tablet? Read on for the full review.
Phone Specifications
| | | | |
| --- | --- | --- | --- |
| General Info | | | |
| Brand | Huawei | | |
| Model | Honor X1 / MediaPad X1 | | |
| Dimensions | 183.5 x 103.9 x 7.2 mm | | |
| | | | |
| Network | | | |
| SIM | Single SIM | | |
| 2G Network | GSM 850 / 900 / 1800 / 1900MHz | | |
| 3G Network | WCDMA 850 / 900 / 1900 / 2100MHz | | |
| 4G Network | TDD-LTE / FDD-LTE (Only available on 4G model) | | |
| | | | |
| Display | | | |
| Size | 7.0" | | |
| Resolution | 1200 x 1920 | | |
| Type | IPS LCD | | |
| | | | |
| Hardware | | | |
| CPU | Hisilicon Kirin 910 | | |
| GPU | Mali-450MP4 | | |
| | | | |
| Memory | | | |
| RAM | 2GB | | |
| ROM | 16GB | | |
| Expansion | Yes (microSD) | | |
| | | | |
| Camera | | | |
| Front | 5.0MP | | |
| Back | 13.0MP | | |
| Video | 1080P @ 30FPS | | |
| | | | |
| Features | | | |
| OS | Android 4.2 (Custom) | | |
| GPS | Yes w/ A-GPS | | |
| WLAN | 802.11 b/g/n / 802.11 a/b/g/n dual-band (4G Model) | | |
| Battery | 5000mAh | | |
| Bluetooth | v4.0 | | |
| USB | microUSB 2.0 w/ OTG support | | |
Video Review
Written Review
Do note that the device I'm reviewing is the Honor X1 3G version (4G/LTE version available. Only difference is the support for 4G connection). As mentioned in the opening, the device is also known as Mediapad X1 internationally. It is used as it is out of the box without any customization to the firmware or software. The device came with the Emotion UI 2.0 (based of Android 4.2.2) and is used as such.
Packaging and Accessories
The Honor X1 comes in a turquoise coloured box that is larger as consistent with the bigger device it is housing. There isn't much details or pictures on the box except some basic specifications at the back of the box. To open the box, you have to pull on a flap at the side and the inner box slides out smoothly.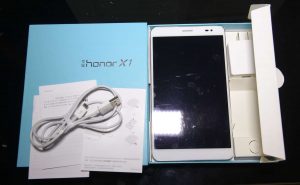 You'll be greeted with the Honor X1 staring right back at you. There aren't many accessories provided except a standard microUSB to USB data and charging cable and a couple of quick start manuals. It also comes with a pin eject tool for the facilitation of microSIM and microSD card removal. You also get a wall adapter that has a single USB port available.
Overall, the packaging is simple and neat. Pretty much similar to every other devices out there.
Design and Build Quality
The Honor X1 looks alike to many other devices out there (both phones and tablets). It has a grey back with a silver chrome border running along the front of the phone. The rest of the phone is coloured white and that's pretty much it. There isn't much to go crazy about and it looks really common. I mean its fine, there's nothing bad about it just that it isn't anything special.
Build quality is pretty solid on the Honor X1. When I first picked the device up, there is this slight feeling that the device is well built and of decent quality. There is a heft to the device that makes it feel a little more expensive and premium. The uni-body design does make the quality feel slightly higher but that means that the device doesn't support a removal battery.
Button placement is slightly weirder though. With all physical buttons and card slots being on the same side (right of phone), the position of the volume rocker as well as the power button is rather out of place and inconvenient. Let me explain, instead of the usualy volume rocker and power button being slightly positioned to the top of the phone, the Honor X1 has them more to the middle. While I understand that it allows one hand operation to work slightly better (allowing you to reach the buttons should you be using the device with one hand), the unintentional presses while carrying the phone on hand can get rather frustrating. Should you be one of those people that like to carry your phone or device on your hand, clutching it normally will result in frequent button presses either on the volume rocker or the power button.
I would definitely prefer the buttons be shifted to the top while the card slots can either be relocated to the bottom (the microSIM slot is at the bottom but the microSD card slot is at the top) or the other side. I feel that it will work much better that way. Other than that, speaker placement at the back is disgusting and terrible. The Honor X1 has no capacitive buttons yet it has a really thick bottom bezel that serves little to no purpose. Maybe the speakers can be placed there instead? For such a large device, I don't understand why there is only one tiny speaker grill and let me just say that it doesn't sound good or loud enough.
Overall, the build quality is decent and the design is alright. It looks really common and the button placement isn't the best but all in all it makes up a pretty good device. The huge bottom bezel should be used for something more useful though.
Display
The 7" 1200P (1920×1200) display is great. Full HD on such a size is simply fantastic for all kinds of uses. Whether is it web browsing, messaging or media consumption, it just gives a really fantastic experience. Text are extremely crisps on the display making the display great for reading. Brightness levels are good enough for usage under direct sunlight. There will be some reflections here and there but it is bright enough for you to see and use the device. Colours are vibrant and contrast is decent, making media consumption highly enjoyable.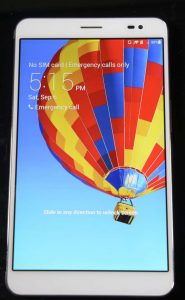 Synthetic Benchmarks
Phone Performance
As seen in the synthetic benchmarks, the phone doesn't really pack really powerful hardware. It is decent enough to ensure that the UI and general app usage work smoothly without any hiccups. It does indeed succeed in that and you will barely find much lag in almost all kinds of apps and in any kind of phone functions (messaging, phone calls, contact browsing, music playback etc).
General phone functions works perfectly well. Phone calls were clear at both ends, messaging works fine and the signal strengths were pretty much strong wherever I went (similar signal strengths to all other devices I reviewed). WiFi works fine as well, getting similar strength as with my other devices too.
GPS works fine and definitely much better than the previous few Mediatek powered phones. Position locking is done within seconds and it does tracks pretty well once locked. I've used it for a few trips and the GPS guided me pretty well. There were some slightly hiccups (tracking stopped momentarily but resumed quick enough) but they weren't too major that resulted in me navigating wrongly. The GPS is definitely good enough for you to use for navigation whether is it by driving or walking.
The only slowdown comes when you run apps that require heavy CPU processing. For example, the browser works fine should you browse websites that are catered for mobile devices or are at least slightly optimized for mobile browsing. Go to a page that is completely catered for desktop users and you will immediately see that the Honor X1 can barely keep up any kind of smoothness or lag free experience. Visiting my online local forums (without a mobile version) worked sluggishly. Be prepared for several freezes here and there as the phone tries to load everything. It doesn't help when the resolution is of 1200P as well. There is simply too much for the CPU of the phone to handle.
I have to reemphasize that this only happens in CPU intensive apps. There aren't that many apps that will cause the phone to go crazy. General phone usage is totally fine. It is sad though that there are many alternative hardware out there that probably performs much better but Huawei decided to stick with their own house brand hardware.
Battery life is amazing on the Honor X1. I'm not sure to compare it with phones or tablets but either way the battery lasts really long. The device houses a 5000mAh capacity battery and it will definitely last you a whole day of really heavy usage. When I say really heavy usage, I mean 3G web browsing for 10 hours straight while still having probably another 10 to 15 hours of standby time. I managed to pull out roughly 7 hours of usage (watching videos, browsing net on 3G, watching youtube videos on WiFi etc) and 29 hours of standby time (3G on with occasional WhatsApping and messaging). It is just insane how long this thing lasts!
Overall, the Honor X1 performs well enough for being both a phone and tablet. As mentioned earlier, the only slowdown comes when you run a really CPU intensive app or anything that relies heavily on the CPU for processing. There aren't that many things out there that fall into such a category and thus shouldn't really matter that much.
Phone Software (Emotion UI 2.0)
The Emotion UI (EMUI in short) is Huawei's custom Android implementation. The homescreen uses a similar layout to the iOS where apps are all present in the homescreen. There are basic customization options for the homescreen such as wallpaper management and screen transitions. Other than that, it also have this simple UI function that transforms the homescreen loader into a very basic layout with large fonts and the main phone functions are easily accessible. There is also the ability to customize the apps available, adding and removing whatever custom apps you may want to include.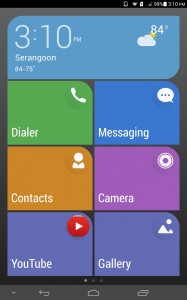 There are some built in management apps and tools that make EMUI pretty functional. For example, there is the notification management that allows you to control what apps have permission to push notifications and it even have a log to check which apps are trying to push notifications when it is blocked. There is also the startup manager which manages startup apps. You can choose to allow an app to start at boot or disable it. Pretty neat function. Lastly, it also have a permission manager that allows you to see what permissions are granted to specific apps. You can individually change the settings for each individual app and prevent them from accessing anything you don't want it to.
The most amazing function of EMUI that fascinated me is the power monitoring and management tool. It basically monitors all apps and notifies you if an app is power hungry or not (basically taking much CPU time when phone is supposed to be idle). It will give you a rough estimate of how much power it is consuming and allows you to either choose to protect it from being closed when phone is supposedly "idle" or to close it whenever it is not used. Not sure if this is what makes the phone battery life so amazing but it sure is neat to be able to see which are the rouge apps that are consuming too much battery.
EMUI also provides some basic gestures that are mostly gimmicky things that you will probably not use except for one. More and more devices are giving users the option to double tap screen to wake which in my opinion is a great shortcut. Especially for a device this big, it definitely helps that you can simply tap the screen to wake it. There are the hover gestures that allow you to preview items say images in your gallery by hovering over it. It is cool but I doubt many people will use it.
I must point out that the stock Huawei music app is pretty decent. Decent enough for me to use it and not having to install any other third party app. While it might not have all the cool equalizer and whatever other function your other players might have, it serves its main purpose of playing music and does it well. Music finding and sorting works well. There are several ways you can sort your music be it by album, artist or even the music folder itself. I am really impressed with it having seen other phone manufacturers utterly fail in implementing a working (or semi-working) music player solution.
Everything else is pretty much stock android with a skin over it. Speaking about skins, there are several different themes in their own market that you can download and apply to your homescreen. You can even mix and match yourself with a variety of options. Otherwise, you can choose from a large range of user created themes that are posted online.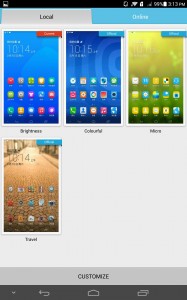 Overall, EMUI is an alright custom Android UI that does provide some additional functions that are useful (especially the power monitoring tools). It is functional and smooth enough that I don't really find a need to replace it unless it is for aesthetic reasons.
Gaming Performance
As usual, I played Real Racing 3 on the Honor X1 and had a blast. The 7.0 inch display gives a much more immersive and enjoyable gaming experience compared to every other smaller devices that I've used so far. It also isn't so big that controlling the device becomes clumsy or tiring. A 7.0 inch device is really a great size for gaming.
As for the performance of the Honor X1, it is smooth in the sense that there aren't many spikes here and there and the game is certainly playable and enjoyable. That said, the frame rate which the device is able to support is certainly lower compared to a higher spec device. Overall, I enjoyed my time gaming on the device.
Camera
The camera is pretty decent and is able to capture photos that exhibit nice colour range and image details. The HDR functionality works well to bring out detail and makes images look better in certain conditions. In lower light conditions, the camera doesn't do as well and the auto flash feature doesn't work the best. There are times when flash is needed but the phone doesn't detect it at all. This can probably be fixed with a software update.
Video recording is alright but does give quite a weird saturated output when recording. If you take a look at the sample video, you will realize that the colours seem a little more "fake" in that sense. Compare the first few seconds to the photo of the garden that is captured using the phone. It isn't bad in any way but it just looks slightly off. Other than that it should do you fine for recording basic things.
Overall, the camera does perform well enough for a normal phone camera. It is comparable to many devices out there (that aren't specifically made to be "camera phones") and you shouldn't have a problem using the photos captured for sharing on your websites, facebook and whatever other digital platforms.
Download unedited photos: Mirror 1
Official and Community Support
There is certainly official support for the Honor X1 and the Emotion UI. There are updates here and there to further improve the software and the latest version (EMUI 2.3 based off Android 4.4) can be flashed on the device as well. It is weird though that they don't support the newer EMUI version via their OTA update app. Nevertheless, the option is available for you should you find the need or curiosity to update.
There are quite a few threads in XDA that discusses the device in specific. There are people posting rooting guides and tips, official ROMs (of other regions) and giving help to those that need it. I have yet seen a custom ROM made available for the device. The community support on the device isn't the greatest but it is definitely present.
In terms of peripherals and accessories, I do find that there are quite a few cases and accessories catered for the Honor X1. There are also screen protectors that are made specifically for the device. Overall, the device is certainly well supported in all areas from mostly the official manufacturers and some help comes from the community.
Conclusion
Overall, the Huawei Honor / Mediapad X1 is a pretty good device be it a phone or a tablet (or a phablet). It performs decently for it to be a daily driver. It isn't so much the device fault but rather the form factor might be slightly too big for it to be used as a phone. I've used it mainly a phone and while I really enjoyed the extra screen estate, it becomes slightly too cumbersome for it to be carried around as a phone. As for a tablet, some might prefer a slightly bigger form factor say a 10" screen but I must admit that after using the device for some time, I am subscribed to the idea that 7" is pretty big enough for "tablet" usage. The problem then comes where my phone is just slightly smaller and whether or not I want to carry two devices of such similar capabilities.
The Honor X1 isn't cheap nor expensive. If you treat it solely as a tablet, there are several alternatives out there that are slightly more expensive but seem to pack much more as well (for example the Samsung Galaxy Tab S 8.4" which also have phone functionalities). If your budget is extremely tight, I can certainly recommend the Honor X1 but would also suggest that you might want to save a little more to get something better. It performs well, but there are devices out there that perform better. When price becomes a factor, the device doesn't score high on the value for money scale. That said, if size is the main factor and you really love the form factor of a 7.0" phablet, there aren't many options to choose from and the Honor X1 should do you fine.
Do note that the 4G model costs slightly more than the 3G version.