The Xiaomi Redmi Note is the bigger brother of the Redmi. It packs more powerful hardware and houses a bigger screen and battery. How exactly does it perform? Read on for the full review.
Phone Specifications
| | | | |
| --- | --- | --- | --- |
| General Info | | | |
| Brand | Xiaomi | | |
| Model | Redmi Note | | |
| Dimensions | 154x78.7x9.5mm | | |
| | | | |
| Network | | | |
| SIM | Dual-Sim Standby | | |
| 2G Network | GSM 900/1800/1900MHz | | |
| 3G Network | WCDMA 900/2100MHz | | |
| | | | |
| Display | | | |
| Size | 5.5" | | |
| Resolution | 720*1280 | | |
| Type | IPS | | |
| | | | |
| Hardware | | | |
| CPU | MTK6592 | | |
| GPU | Mali-450MP4 | | |
| | | | |
| Memory | | | |
| RAM | 2GB | | |
| ROM | 8GB | | |
| Expansion | MicroSD up to 32GB | | |
| | | | |
| Camera | | | |
| Front | 5.0MP | | |
| Back | 13.0MP | | |
| Video | 1080P @ 30FPS | | |
| | | | |
| Features | | | |
| OS | Android 4.2.2 (Custom) | | |
| GPS | Yes w/ A-GPS, GLONASS | | |
| WLAN | 802.11 b/g/n | | |
| Battery | 3100mAh | | |
| Bluetooth | v4.0 | | |
| USB | microUSB v2.0 (OTG Supported) | | |
| | | | |
| Others | FM Radio | | |
Video Review
Written Review
Do note that the phone is running stock firmware MIUI V5 (Based on Android 4.2.2) and is tested as it is out of the box.
Packaging and Accessories
Similar to all our previous Xiaomi phone reviews, the Redmi Note purchased from the Singapore online store came with additional accessories outside of the phone box. It came together with two SIM card adapters and a USB power adapter. Purchasing the phone from different countries might result in some variant in the accessories provided.
The packaging of the Redmi Note is similar to all the other Xiaomi phones out there. It follows the simple minimalistic design with not much details or fancy design on the outer box. There is sticker at the back of the box that gives some basic specifications of the phone and other than the subtle Xiaomi "MI" logo at the front, there isn't anything else.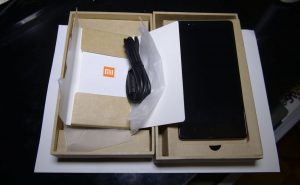 Opening the box, you will immediately be greeted with the Redmi Note. Lifting the phone up, you will be able to access the quick start manual and guide. Other than that, Xiaomi provides a standard charging and data sync cable (USB to microUSB). Other than that, the battery comes in a separate sealed bag and you will need to install it in the phone before using.
Pretty standard stuff coming from Xiaomi. Nothing too fancy but things are not too shabby either. A great balance between simplicity and efficient packaging.
Design and Build Quality
The Redmi series of phones is the budget product line by Xiaomi. The Redmi Note is simply a beefier and larger version of the Redmi. The phone does not feel premium at all with the plastic used for most of the phone. That said, there is some heft to the phone and while it does not feel premium, the build quality of the phone is good. Having reviewed several other Chinese phones in the past, the Redmi Note certainly falls in a similar category to the other generic Chinese phone brands and models. That is not bad by any means especially since the quality of such phones are decent enough to compete with your more popular brands out there.
The phone design is standard throughout. You have your volume rocker and power button at the right side, 3.5mm audio jack at the top and lastly the microUSB data and charging port at the bottom. The speaker grills are situated at the back of the phone, something I particularly dislike but everyone seems to be doing it that way. I still don't understand why phone manufacturers simply cannot put the phone speakers at the front.
I would love to point out that the phone comes with a notification LED indicator that is bright enough for it to be seen. I have seen many phones with notification LEDs that are so dim that they are basically there just to waste whatever little battery life it uses. The one on the Redmi Note is bright and can display several different colours as well. You can assign different colours to different notifications in the phone software.
Overall a pretty standard phone with decent enough build quality.
Display
The Redmi Note features a 5.5″ 720P IPS screen protected with some kind of glass at the front. I must say that this particular display performs better than what I've seen in other phones with 720P displays. The colours are definitely more vibrant and contrast ratios seem to be slightly higher as well. Take for example the Star N9599 I've reviewed. Colours on that screen definitely seems slightly more washed out should it be placed side by side with the Redmi Note's display. The display can get pretty bright and you will have no problem using the phone under direct sunlight. On the other hand, it can also get dim enough for you to use it comfortably at night. Overall, the display on the phone is certainly better than I expected and is more than enough for any kind of uses.
Synthetic Benchmarks
Phone Performance
The Redmi Note performs decently for all kinds of phone functions. The hardware that powers the phone is certainly no slouch. The octa-core CPU does make everything (that doesn't require much graphics processing such as games) perform butter smooth. The UI and homescreen works flawlessly without much lag or slowdowns. Opening, closing and switching between apps work as per intended and all other basic functions simply gets handled easily by the powerful CPU.
In terms of core phone functions such as calling and network connections, the phone does perform well in that area. In all my phone calls so far, none has drop and both parties' voice quality was crystal clear and smooth. Signal strengths are pretty much similar to all the other phones tested and there is never a point where someone else (with an identical network provider) had connection and I didn't. WIFI signal strength is decent as well. Its performance isn't extraordinarily but places where it should receive signals received signals.
The GPS performance of the phone isn't good. It is slightly better than most Mediatek powered phones but it is definitely not good enough to rely on. The GPS locked my position rather quickly. That said, it doesn't seem to track very well. A simple walk in the park had the GPS jumping slightly even after somewhat "locking" my position. It was weird as most of the time I had clear vision of the sky (except for the occasional trees and overhead lamps that partially block the sky) yet the GPS doesn't follow well enough. It sure can show you your current position but relying on it while driving isn't exactly ideal or recommended.
The battery life of the phone is fantastic. The 3100mAh battery does allow for some heavy usage without worrying about the phone dying before reaching home or a place with a power source for charging. Even should you not have a portable charger around, you can opt to carry another battery (since it is interchangeable) and it will last you for an entire day of heavy usage. I have used the phone (3G browsing and watching videos) for roughly 4 hours and still managed to get another 32 hours of standby with occasional messaging and WhatsApping throughout. I reckon you can possibly get about 6 hours of continuous usage (3G browsing and whatnots) and still get home with enough to not have the need to rush to charge the phone.
The Redmi Note does not come with much storage but with the expandability by using the microSD card slot (officially supports up to 32GB), there should not be any issues with the lack of storage. The phone also does come with a microUSB port that supports OTG devices. Similar to all other Xiaomi devices, the phone does come with the custom Android OS MIUI and it supports some of the built-in features such as the music equalizer, headset button customizations etc. Do refer to my previous review of the MIUI for more information.
The small single speaker output at the back is not the best implementation of speakers both in terms of placement and quality. You should be able to hear the loudspeaker should the speaker not be blocked and if the surrounding is not too noisy.
Overall, the phone performs decently well in all aspects. Besides the sluggish GPS performance, everything else works smoothly right out of the box.
Gaming Performance
The Redmi Note might have an octa-core CPU but the Mali 450MP4 GPU is not as powerful as one might hope for. Less graphically intensive games will perform fine but up the requirements slightly and you will find that, while the games remain playable, there are occasional frame rate dips and stuttering. Take into account that the resolution is only 720P, the performance is average at best.
Phone Software (MIUI V5)
Please refer to the following link: Xiaomi Hongmi (Redmi) Review (MIUI Section)
TLDR: One of the better custom Android OS experience both in terms of functionality and aesthetic.
Camera
Camera performance is pretty average. Photos taken are somewhat sharp but colours look slightly dull and washed out. The HDR function does have the same problem as with all the other Xiaomi phones I've reviewed. This time around, the photos that are taken with the HDR function on seems to be over exposed (look at picture for details). This should most probably be a software problem and can be fixed in the future. Video quality is good as well. Overall, the camera on the phone is good enough for casual photo and video taking.
http://www.youtube.com/watch?v=RYzF_jdk6pg
Download unedited photos: Mirror 1
Official and Community Support
Official support from Xiaomi is great. Expect constant updates from them for their custom OS. If you're looking for third-party ROMs to flash on your device, look no further as you will probably not find any. When it comes to custom community mods for the phone, you are practically out of luck. The Redmi Note does have its fair share of accessories and peripherals both from Xiaomi themselves and other third party companies. There are plenty of covers, screen protectors etc for you to purchase to put on your phone.
Conclusion
Xiaomi continues their tradition of selling value for money products with the Redmi Note. For the price you are paying for, the Redmi Note provides fantastic value with its raw performance and good build quality. The same issue still applies though. Xiaomi products are never in stock and when they are, you have to be really quick to lay your hands on purchasing one. You can look to buy from resellers but do be prepared to pay a premium which may or may not result in other comparable phones being more attractive. All in all, the Redmi Note definitely gets my recommendation especially if you can get it at its street retail price.
[starreviewmulti id=1 tpl=31]