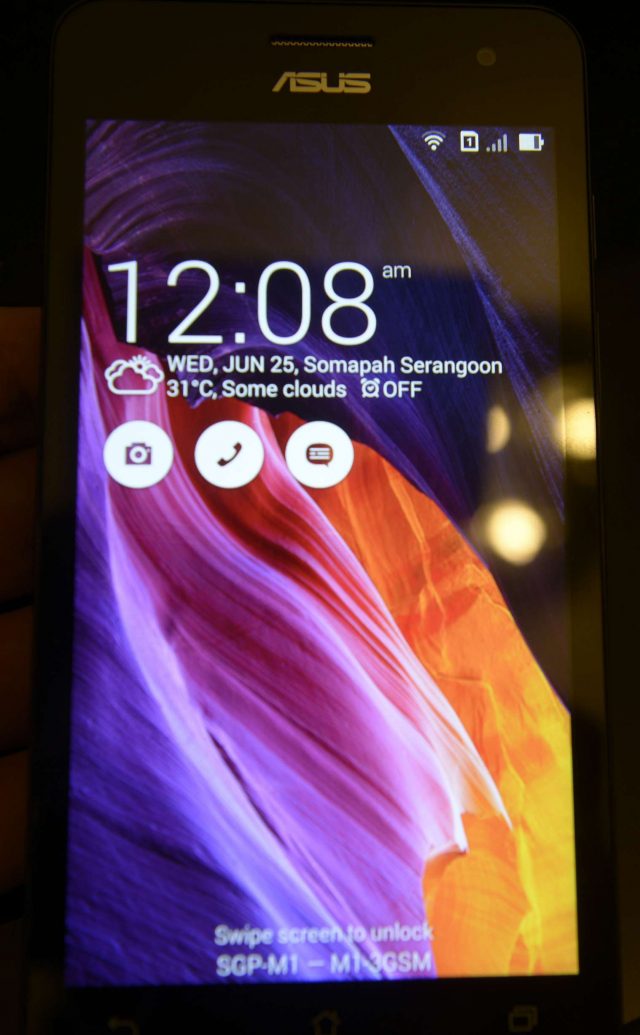 With the emergence of the budget smartphone market, many companies are looking to capitalize on that by selling phones of high quality while still keeping prices at a low. The ASUS Zenfone 5 is one of the first models to be part of the budget offerings by the company. The company is not exactly new in the market, having already come out with several different tablets and hybrids in the past. The Zenfone series of phones, however, is their first venture into the phone market.
Phone Specifications
| | | | |
| --- | --- | --- | --- |
| General Info | | | |
| Brand | ASUS | | |
| Model | Zenfone 5 | | |
| Dimensions | 148.2 x 72.8 x 5.5mm | | |
| | | | |
| Network | | | |
| SIM | Dual-SIM Standby | | |
| 2G Network | GSM 850 / 900 / 1800 / 1900 | | |
| 3G Network | HSDPA 850 / 900 / 1900 / 2100 | | |
| | | | |
| Display | | | |
| Size | 5.0" | | |
| Resolution | 720*1280 | | |
| Type | IPS w/ Gorllia Glass 3 | | |
| | | | |
| Hardware | | | |
| CPU | Intel Atom Z2580 (2.0GHz) / Z2560 (1.6GHz) | | |
| GPU | PowerVR SGX544MP2 | | |
| | | | |
| Memory | | | |
| RAM | 1/2 GB | | |
| ROM | 8/16 GB | | |
| Expansion | Yes (microSD) | | |
| | | | |
| Camera | | | |
| Front | 2.0MP | | |
| Back | 8.0MP | | |
| Video | 1080p at 30FPS | | |
| | | | |
| Features | | | |
| OS | Android 4.3 (Custom) | | |
| GPS | Yes w/ A-GPS and GLONASS | | |
| WLAN | 802.11 b/g/n | | |
| Battery | 2110mAh | | |
| Bluetooth | v4.0 | | |
| USB | microUSB v2.0 | | |
Video Review
Written Review
Do note that there are different specifications (mainly in RAM and CPU) for the same phone model. This review is based off the 1.6GHz CPU and 2GB RAM variant. Phone is updated to the latest firmware by ASUS (time of posting this review).
Packaging and Accessories
The Zenfone 5 comes in a nice looking box. It has a flashy showcase of the phone at the front and sticking to the trend of simplicity and minimalism, there is nothing else much at the other sides. Instead of pulling up the box cover, ASUS uses a sliding method which is kind of a nice surprise especially how it comes out smoothly (unlike other phone boxes that are sometimes fitted too tightly). The phone is nicely packaged within a transparent plastic sheet.
The Zenfone 5 comes with the standard few accessories and manuals. A quick start guide cum user manual, warranty card, wall adapter (uses a collapsible third pin for UK plugs), USB to microUSB cable and a pair of earphones with mic. A nicer touch to point out is that they provide additional earbuds of different sizes (large and small, medium fitted on the earphones already). This is to ensure a better fit for everyone. Pretty thoughtful of them to include such additional stuff compared to the norm.
Overall, the packaging and accessories that come with the phone are pretty much top notch in terms of quality. There isn't much to complain about especially since the Zenfone 5 falls into the budget category of phones.
Design and Build Quality
The Zenfone 5 has pretty much the "standard" smartphone shape, placement and features. That said, it is slightly on the longer/taller end with the additional textured protrusion (?) at the bottom after the capacitive buttons. I have no idea what to call that since I have no clue what use it does except that it increases the length of the phone. While it does not affect your grip or comfort in any way, the slightly larger footprint is definitely unnecessary and can be unappealing to some.
The Zenfone 5 comes with 3 capacitive buttons (non-backlit): a "back", "home" and the button to open the list of recent apps. Long press that and you get the "settings/menu" function. It feels kind of weird not having a "settings/menu" button as with most android phones do. I guess it is more of a preference thing but I definitely do prefer long pressing for recent apps rather than having a button dedicated to it. It is kind of weird that you can edit the long press functionality of the button to let it repeat the same exact function but not having the option to have the button act as a menu button. I guess this can be fixed or added in future updates. Not too much a big problem though.
There is a notification LED at the front towards the top that cannot be customized. While it is bright enough to be seen, the way it flashes so quickly when you have a notification is simply doing no good in notifying the user. Plug the phone in and it turns into a charging indicator that remains on throughout. Now that's what I'm looking for. Perhaps they could include some form of customization for the LED like some of the other custom ROMs out there.
The power button and volume rocker is located at the right side of the phone. The top houses the 3.5mm jack while the bottom has a centralized data and charging microUSB port. Speaker grills are placed at the back of the phone towards the bottom, a design choice I find extremely poor but manufacturers and companies just seem to love it so much. If only they would use that additional textured block of metal for the speakers.
In terms of build quality, the phone does feel good to the touch. The slight heft of the phone gives it a stronger and slightly more premium feel as well. The phone does have a Gorilla Glass 3 protecting the display and overall it seems to be a phone that can last for quite some time.
Display
The Zenfone 5 has a 5.0" 720P IPS capacitive screen that is housed beneath the amazing protection of the Gorilla Glass 3. Brightness of the screen can be adjusted to both a nice maximum and minimum. Colours look vibrant and while it isn't a full HD screen, everything looks sharp and crisp. There is a pre-installed ASUS Zen UI software called "Splendid" that allows you to adjust the some display settings such as hue, saturation etc which is extremely useful. There is also this "vivid" mode that somewhat increases contrast which is also a nice option to have.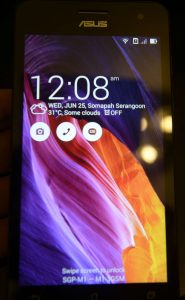 Overall, the display does what it does and does it well. Nothing too outstanding but it is sufficient enough for all your media consumption and general phone usage.
Synthetic Benchmarks
Phone Performance
The phone out of the box has firmware updates available and I've tested the phone after updating. That said, it performs smoothly and I have yet to face any hiccups in my usage so far. I've loaded in several of apps and performance did not slow down at all. All the apps I used worked flawlessly and smoothly.
In terms of general phone usage, the phone does its job well. Call quality is great at both ends and signal strength and retention seems to be pretty much the same as with all other phones I've used and tested so far. The GPS chip within the phone does perform alright and more importantly, works right out of the box without any tweaks and modifications. That said, in, the GPS position isn't very accurate in some of the times I tested it out. It does give you your estimated location but for more accuracy, it needs a little time. There is FM Radio available as well but it requires you to have your audio equipment plugged in for it to work.
Battery life on the phone isn't its strongest suit. I only managed to pull out 2 hours 30 mins of screen time (watching videos and browsing the net) with an additional 30 hours of standby time. The phone does pretty well in managing resources while on standby but when put to work, the battery gets drained rather quickly. For a day of heavy usage without a wall socket, you might need an external power bank as the phone does not feature a removable battery. For people who uses their phones mainly for calls, messaging and light browsing, it will definitely last for quite some time. Again, the phone does pretty well when idle.
Phone Software (Zen UI)
The custom Android UI by ASUS, the Zen UI, works pretty well. It isn't too cluttered or bloated up with unnecessary apps that you will never use. The stock phone apps such as calculator, clock etc have undergone facelifts by ASUS. ASUS have also included some additional apps that adds in quite a bit of functionality to the phone (e.g the app "splendid" as mentioned previously to allow you to adjust display settings). There is also these "link" apps that allow you to transfer files to and fro devices. Overall, the Zen UI is not only pretty but does also introduce some useful functions and features as well. It is highly accessible and it is definitely one of the better custom Android UIs out there. Read on for some of the highlights of the custom apps and features of the Zen UI.
Here is a look at the Splendid app mentioned earlier. It allows you to modify certain display properties such as hue, saturation and colour temperature. Definitely useful for people who might want something more contrasting and nicer to look at rather than a duller but accurately produced image.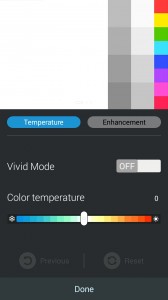 There is this extremely awesome memo app that allows you enable a function that makes it hover on your screen. You can view and edit your memo quickly and easily as it is always on top. This can be extremely useful when you need to refer quickly to notes and this prevents all that switching back and forth different apps. The phone also comes with a more robust note taking app that allows you to take down notes via typing or freestyle handwriting.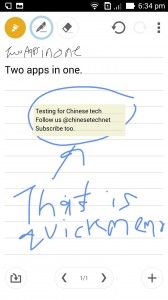 To complete the suit of productivity apps ASUS has a robust task app. You can add snippets of websites to it, remind yourself to reply to a message, add notes etc. The only downside is that you must use their apps in order to make use of the capturing function.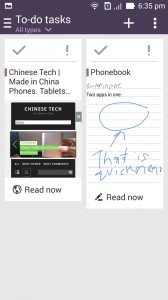 For people looking for a slightly more simplified experience, the Zen UI comes with an "easy mode" that strips android to the bare minimum, giving you quick and easy access to the core functions. This will be great especially for elders or the less tech savvy folks.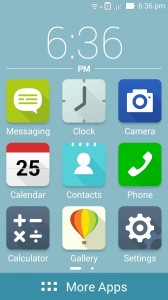 ASUS gives you the ability to share and transfer files between friends and family using their "link" apps. While it only comes preinstalled with ASUS devices, you can also find the apps in the play store. Install that on the devices you want to share files with and you have an easy way to retrieve or send whatever you want.
All things considered, the Zen UI is great in both form and functionality.
Gaming Performance
Gaming is pretty much smooth as butter as I tried out some of the more graphically intensive games out there. The phone managed to handle them well. As per usual, please watch the video for a demonstration of Real Racing 3 and view the performance for yourself. As mentioned before in my previous review of the Xiaomi Hongmi, the 720P resolution definitely helps in ensuring that even when using a less powerful CPU and GPU, things can still run smoothly. The Intel Atom Z2560 together with the PowerVR SGX544MP2 seems to be working rather well in harmony, giving it a slightly better experience compared to the more common pairing of Mediatek's MTK6589(T) and an identical GPU.
Camera
The 8.0MP camera is alright. There is nothing ground breaking nor deal breaking about the camera. The advertised "superb technology" by ASUS doesn't seem that great when you compare the photos taken with the Zenfone 5 with other phones within the same price tag. What I must say though is that under low-light, the phone does have rather decent results. The camera software also comes with a GIF maker which is pretty interesting.
Download unedited photos: Mirror 1
Official and Community Support
While there isn't much community support when it comes to custom ROMs or modifications, the ASUS team seems to be actively updating the firmware and software of the phone. From purchase till date of publication, I had two different updates available with the latest one being pushed out just a day or two ago. The phone has been reviewed by others a month or two ago and some reviewers mentioned about lag and sluggish performance. I did not experience any of that and the only logical reason I can think of is that the software side of things are being constantly updated and refined by ASUS. Kudos to ASUS on being active and on the ball.
Conclusion
The Zenfone 5 is yet another one of those phones with good hardware and software. If you're looking for a custom android experience, the Zen UI is something I can definitely recommend. It doesn't deviate too much from the stock android experience but does have its own unique features and functions. The overall aesthetic of the software looks pretty as well. If you are on a budget and need dual-sim functionality, this is one of the phones you can consider. Stocks aren't that hard to find compared to the fabled Xiaomi Hongmi (everything Xiaomi is hard to get) so it is definitely a major plus especially when you consider the ease of purchasing one.