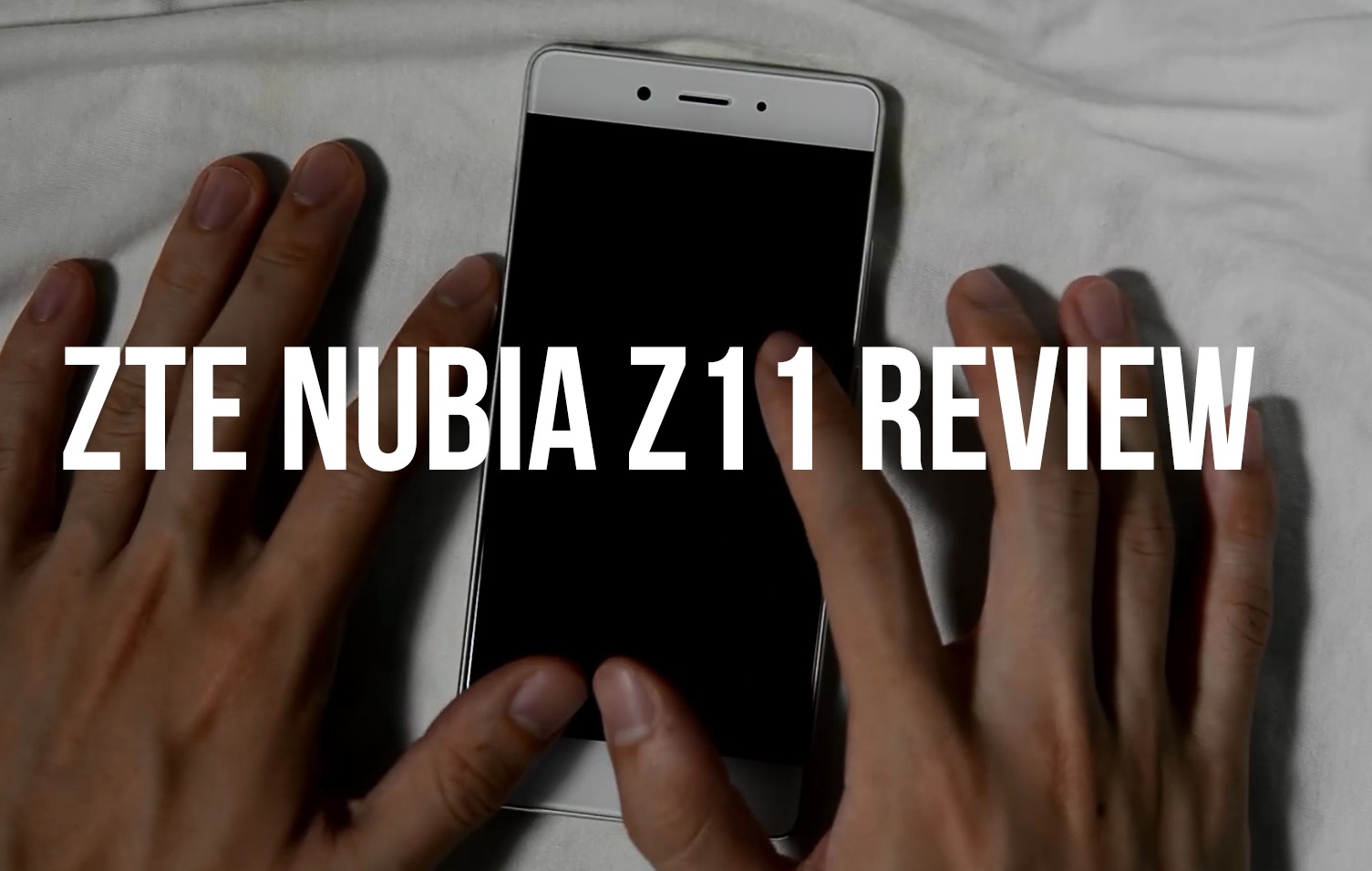 The ZTE Nubia Z11 is the flagship offering from Nubia (parent company ZTE) that features fantastic hardware and one of the more interesting designs that Chinese companies have to offer. I have used the phone for a couple of months before writing this review. Do read on to find out more of what I think about the phone.
Phone Specifications
| | | | |
| --- | --- | --- | --- |
| General Info | | | |
| Brand | ZTE | | |
| Model | Nubia Z11 | | |
| Dimensions | 156.8 x 77.6 x 8mm | | |
| | | | |
| Network | | | |
| SIM | Dual SIM Standby (Nano + Nano) | | |
| 2G Network | GSM 850/900/1800/1900MHz | | |
| 3G Network | WCDMA 850/900/1900/2100MHz | | |
| 4G Network | FDD-LTE B1/3/5/7/8/20/40 | | |
| | | | |
| Display | | | |
| Size | 5.5" | | |
| Resolution | 1080 x 1920 | | |
| Type | IPS w/ Gorilla Glass 3 | | |
| | | | |
| Hardware | | | |
| CPU | Snapdragon 820 | | |
| GPU | Adreno 530 | | |
| | | | |
| Memory | | | |
| RAM | 4/6GB | | |
| ROM | 64GB | | |
| Expansion | microSD up to 256GB (Uses SIM 2 slot) | | |
| | | | |
| Camera | | | |
| Front | 8.0MP | | |
| Back | 16.0MP | | |
| Video | 2160@30 FPS | | |
| | | | |
| Features | | | |
| OS | Nubia UI (based on Android 6.0.1) | | |
| GPS | Yes w/ A-GPS, GLONASS, BDS | | |
| WLAN | 802.11 a/b/g/n/ac @ 2.4/5.0GHz | | |
| Battery | 3100 mAh | | |
| Bluetooth | 4.1 | | |
| USB | Type-C 1.0 | | |
| FM Radio | No | | |
| Fingerprint Scanner | Yes | | |
| NFC | Yes | | |
Video Review
Written Review
Do note that the ZTE Nubia Z11 I am using is running on the "international" Nubia OS, a version that is very much behind the Chinese version. Also, the variant I have is the standard 4GB RAM edition, a 6GB edition is available as well.
Packaging and Accessories
When I last reviewed the flagship phone by ZTE Nubia, I was pretty impressed with the packaging and the accessories they provide. This time is not any different. The Z11 comes in a glossy plastic box that has their signature red accented logo at the top. Inside you get some of the higher quality USB type C charging and syncing cable as well as a wall adapter.
What is most impressive is the earphones that come with it. While I do not have the opportunity to test it out (the set I purchased did not come with one), other reviewers are claiming it to be of more than decent quality and I certainly believe so. The earpiece looks of high quality both in terms of aesthetics, build and audio quality.
Overall, I am impressed once again with the flagship packaging and accessories that comes with the Z11.
Design and Build Quality
The Nubia Z11 has a pretty standard phone design with great choice of materials and component placement. Firstly, kudos to ZTE for keeping the 3.5mm audio jack in place. It is weird but the 3.5mm audio jack, in this modern day and age, is a feature worth mentioning. Speaker placement is decent too having placed at the bottom of the phone. The phone also has red accents around the rear camera and the home capacitive button. Simplistic yet good looking design.
The Z11 has a metal unibody (non-removable back) with one of the more gorgeous looking "bezel-less" screen at the front. The long edges of the display are slightly curved, giving the illusion that there are absolutely no bezels. These curves do have their own functionalities as well which will be explained further below. The phone just looks and feels great to the touch. Premium? Yes. Flagship? Yes.
The design and build quality of the Z11 is certainly one of the best among Chinese flagship phones.
Display
The most beautiful and somewhat unique feature of the display is the ever so slightly curved long edges. It does provide a much better overall feel when using the phone. Great plus points for that. Besides that, you get a full HD resolution IPS display that has vibrant colors and good enough brightness for both low and high light settings. The screen has a gorilla glass on top of it so it does provide good protection for your phone too! Overall I am more than satisfied with the display of the Z11. And no, I do not think you need any resolutions higher than 1080p for a display of this size.
Synthetic Benchmarks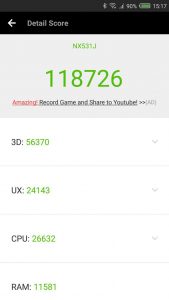 Phone Performance
The Z11 performs great for everything. Good for general phone usage, web browsing and even other power apps that you might be doing. Signal and WiFi strengths are decent, audio quality for both the mic and speakers work perfectly well and the speakers on the phone is loud and clear. Phone feels smooth throughout the day even with many apps running in the background and what not.
The fingerprint sensor, something that works pretty bad in many Chinese phones in the past, works fantastically well. Scan and verify your fingerprint within a second. It is extremely fast and accurate, making me convert to using my fingerprint for the first time ever having owned many other Chinese phones in the past.
Battery life on the phone is good enough for medium to heavy usage. I managed to get about 16 hours of use with roughly 4 to 5 hours of screen on time. Heavy users might want to bring along the wall adapter as the phone supports quick charging. It takes less than an hour to charge from 0 to 50% and a total of 2.5 hours to fully charge the phone.
Nubia UI V4.0
The Nubia Z11 comes with their own custom Android OS called Nubia UI (based on Android 6.0). Similar to many of the other custom Chinese OSes, it follows Apple's iOS style with all the apps being placed in the launcher and does not utilize any app drawers. To add on, it also has the standard power management tools, security tools that come with most, if not all, other Chinese competitors' solution. What I want to focus on is things that are unique to the Z11 and Nubia UI.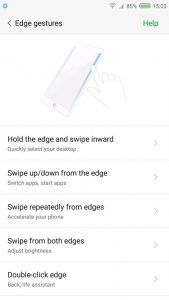 Firstly, the curved edges of the display are not there just for aesthetical appeal. Instead, they act as sensors for gestures to switch between apps, clearing the phone's RAM and even to adjust brightness levels. Not all these gestures are going to be used frequently but things such as the quick switch back and forth between applications is amazingly useful. It takes some time to get used to it but with time I started using them frequently especially when messaging and using some other app at the same time.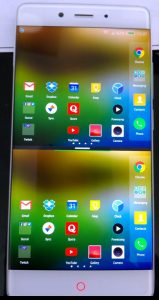 Secondly, split screen works great even on the Z11 despite the slightly average sized screen size (a little bigger than average). The phone is powerful enough for you to run 2 apps side by side with ease. While not many people will use it, sometimes it becomes useful whenever you are reading something and perhaps want another video playing at the background and whatnot. Most of the times I used it is whenever I'm messaging and consuming media such as videos and pictures etc.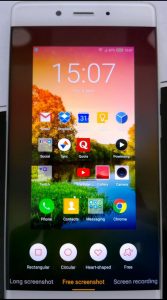 Lastly, a cool feature that I will like to point out is the screenshot ability of the phone. Simply long press the fingerprint sensor or a combination of the power and volume down button to enter the screenshot mode. What is so amazing of this is that you can simply share pictures immediately without saving the images onto your phone. Other amazing things are long screenshots (if your app scrolls you can capture as much as you can scroll) and even video recording (something that will be useful if you do app recordings and whatnot).
Gaming Performance
CPU and GPU on the Z11 is one of the best and it shows when you are gaming. All kinds of graphically intensive games work perfectly smooth without any noticeable frame drops. Do view the gameplay video recording for a demonstration of the gaming prowess of the Z11.
Camera
Cameras on Chinese phones have not been the best. Not many Chinese companies out there pack a camera that is decent enough to compete with international flagships. The rear camera on the Nubia Z11 is one step closer to breaking that common mentality of Chinese phone cameras. Pictures captured look fantastic. Auto focusing works fast and colors are captured with accuracy and vibrancy especially when there is sufficient amount of light. Low lights is the Z11's camera's greatest weakness but even so it does a good enough job when it is called to action.
Video quality works fantastic as well. Being able to capture up to 4K at 30FPS is good but I enjoyed using the 1080P 60FPS mode much more. Recordings look extremely smooth with lots of details especially for a phone camera. Sound quality wise is not the best though but it does a decent job to capture the moment that you are witnessing with your eyes and ears.
Do look at the sample video recording and unedited photo samples to judge for yourself. The camera is great for both photos and videos, great enough to compete with those by other big name companies out there.
Download unedited photos: Mirror 1
Official and Community Support
I have used the phone for months and so far I have received 2 major updates to the international version of the phone. The Chinese version is miles ahead with lots of other cooler features and stability fixes but if you rely heavily on Google's suite of products and services such as Gmail, try not to flash the Chinese one even if it has English translation inside. You'll face much more problems trying to get Google working. Other than that, the commitment they have to their international customers can be seen with all the major updates that are slowly, but steadily, streaming in.
Their official forums work great as well for you to discover new custom mods, firmwares and general discussion of the phone. It is all in Chinese though so you might have to get a translator ready, especially if you are looking to flash some of the custom ROMs available. Otherwise, you can head to the massive thread on XDA that has quite a bit of information and activity as well. Other community forums do talk about the Z11 so if you are looking for help and support, you should be able to get it.
In terms of accessories, there are plenty of phone cases available for the Z11. That said, one major problem is the lack of screen protectors that fit perfectly well for the curved display. You either pay for a smaller sized protector else you get one that prevents you from enjoying the beautiful curved edges of the phone. You can see more in the video review as I showcase the one that I am currently using.
Overall, ZTE seems to be one that fulfills their promises especially for their flagship phones. Updates are coming in and with the steady amount of activity going on for the phone, you will be sure that you are going to get support and some of the later new features onto your phone with time.
Conclusion
The Nubia Z11 is a great flagship phone. It has one of the best fingerprint sensor I have ever used, a really good camera and ultimately fantastic specifications. It is, however, slightly more expensive as compared to other Chinese phones with similar hardware specifications. That said, it is still cheaper than the flagship pricing of other phones out there and yes, the Z11 does feel and perform like a flagship phone.
Looking for something powerful and not too expensive? The Z11 is definitely a phone that you can consider.
[starreviewmulti id=1 tpl=31]