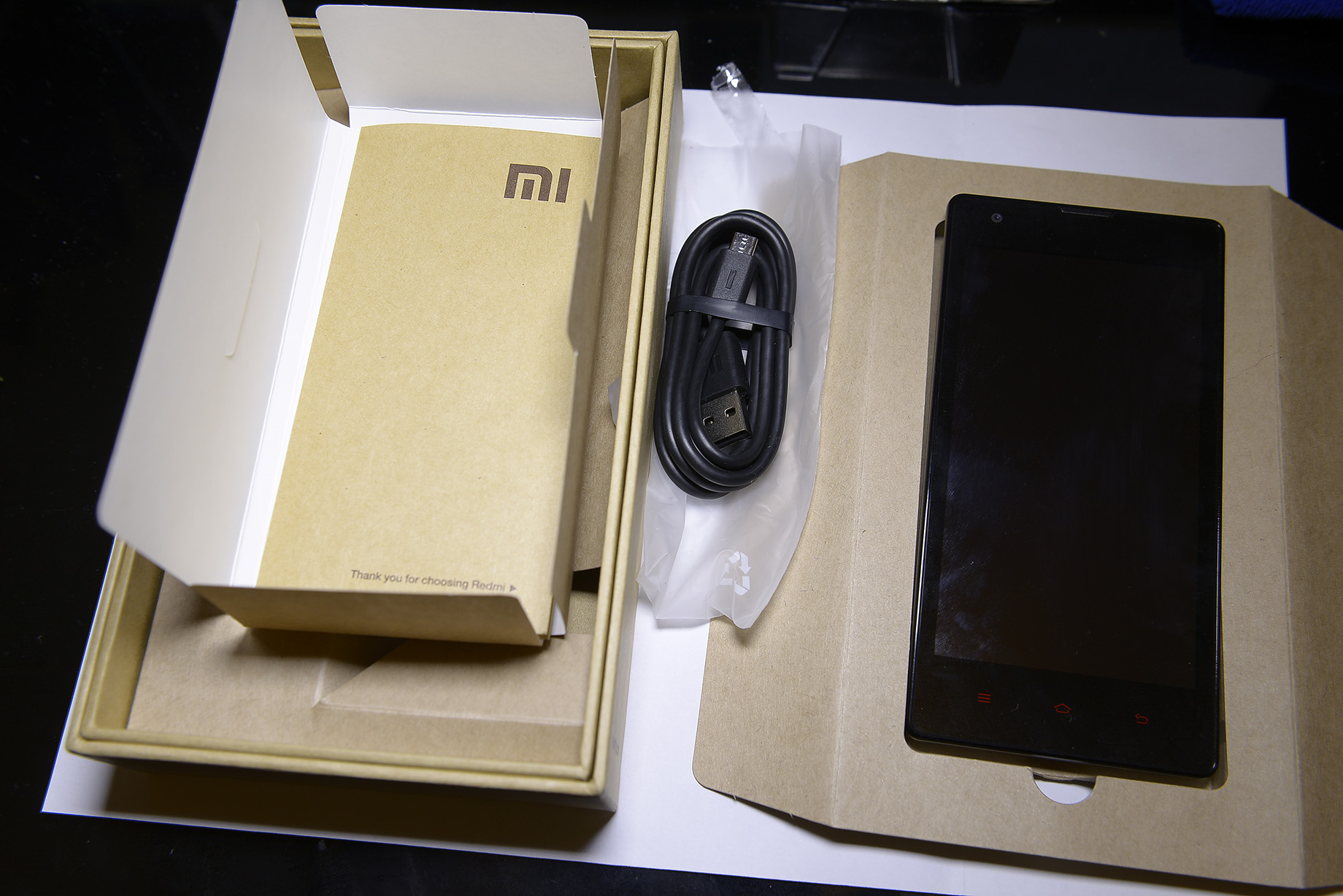 Xiaomi is one of the largest Chinese phone makers. They were the first Chinese company to gain the attention of the world when they released their very first phone. In 2013, Android VP Hugo Barra left Google to join them. That itself speaks volumes as to how huge the potential of Xiaomi is and how serious they are taking things. Currently, they have two main branches of phones. One is their flagship product line and the other is the budget line. The Hongmi, or Redmi, is their first ever budget phone released. That said, how does it fair?
Phone Specifications
| | |
| --- | --- |
| General Info | |
| Brand | Xiaomi |
| Model | Hongmi / Red Rice |
| Dimensions | 137x69x9.9mm |
| | |
| Network | |
| SIM | Dual-Sim Standby |
| 2G Network | GSM 900/1800/1900MHz |
| 3G Network | WCDMA/TD-SCDMA 900/2100MHz |
| | |
| Display | |
| Size | 4.7" |
| Resolution | 720*1280 |
| Type | IPS LCD w/ Gorilla Glass |
| | |
| Hardware | |
| CPU | MTK6589T |
| GPU | PowerVR SGX544 (Single) |
| | |
| Memory | |
| RAM | 1GB |
| ROM | 4GB |
| Expansion | MicroSD up to 32GB |
| | |
| Camera | |
| Front | 1.3MP |
| Back | 8.0MP |
| Video | 1080p @ 30FPS |
| | |
| Features | |
| OS | Android 4.2.2 (Custom) |
| GPS | Yes w/ A-GPS amd EPO assistance |
| WLAN | 802.11 b/g/n |
| Battery | 2000mAh |
| Bluetooth | v4.0 |
| USB | microUSB v2.0 (OTG Supported) |
| Others | FM Radio |
Video Review
Written Review
Do note that the phone is running stock firmware MIUI V5 (Based on Android 4.2.2) and is tested as it is out of the box.
Packaging and Accessories
Purchasing the phone in different countries or resellers will yield different outcomes. My set came from the official Xiaomi Singapore online store. The phone came delivered with several free additional accessories. Not sure if they're always bundled together with the phone but at least for the Singapore store they do come free.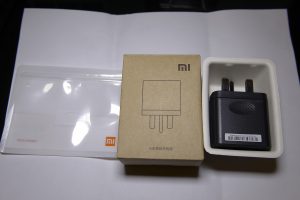 The phone comes with a wall charger as well as two micro-SIM adapters. The phone uses a normal SIM card so it definitely helps knowing as many people will have micro or nano SIMs at this time. These accessories are not packaged together with the phone. It came inside the shipping box, separate from the phone.
The phone on the other hand comes in a packaging dubbed "Eco-friendly". It does look and feel extremely environmental friendly seeing how it is simply a small cardboard box. The box design is extremely simple and plain; some specifications of the phone at the back and a small Xiaomi logo at the top. Opening up the box, you will be greeted with the phone. Besides the phone, you will only get a data cable as well as an instruction manual.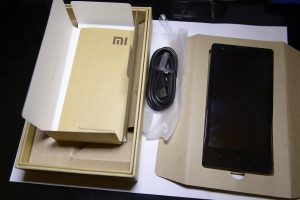 Design and Build Quality
The phone on first touch feels amazing. There is this heft to it that makes it feel like a premium phone. The materials used to construct the phone is also high quality considering the price. The back cover is interchangeable and comes in different colors selectable on purchase. Additional back covers of various other more interesting colours are available as separate purchases. The phone has your standard button placements. At the front, the phone is protected with a Gorrila Glass which is great protection.
Overall, the phone has an extremely good build quality and feels solid to the touch. The main problem I have with the phone is the speaker placement. As I've said many times, I don't understand why phone manufacturers do not want to place the speakers at the front. The Hongmi has just a tiny speaker grill at the back which must not be blocked else you will pretty much hear nothing. It is located near the left edge though so elevating the phone to a certain height will allow the speakers to work decently. Another issue I have is the placement of the power button. Now this comes down to personal preference but by having the power button at the side just below the volume rocker makes unintended power button presses more frequent than normal (at least for me). I would like either the power button to have some sort of groove to it or simply place it somewhere else.
One thing that I would like to point out is how effective the notification light is on the phone. Nowadays most phones come with notification lights but the main problem I have with them is that they are not obvious enough. The notification light on the Hongmi is situated directly below the home capacitive button. While it is just a tiny light, it is bright enough to notify me of anything. It looks great and more important visible as compared to other phones.
Display
The phone features a 4.7" 720P IPS screen protected with a Gorilla Glass. While it isn't your high end full HD display, it does perform well enough for media consuming and gaming. The display at highest brightness does fare well other direct sunlight. The main issue you will face with the display is that it is definitely not the highest contrasting and looking display your eyes will ever feast upon. As with other 720P displays, the colours aren't the most vibrant and can be a little flushed out when comparing with a 1080P display. It isn't the best display but it is certainly good enough.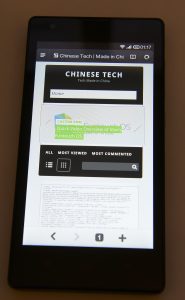 Synthetic Benchmarks
Phone Performance
When you call something "budget", it might be associated with poorer qualities as with the saying goes you get what you pay for. People do forget that sometimes going budget is simply looking for value for money alternatives. The Hongmi is one such product. It is extremely value for money. For the price you pay, you are getting a phone with decent specs, an amazing custom OS as well as decent build quality.
The phone performs smoothly in all areas. These are the hardware specs you see on your higher end Chinese phones. The phone works perfectly fine in terms of general phone usage. Calls are clear at both ends, WIFI signal strength is decent and every other features such as Bluetooth, FM Radio and 3G data connection are working perfectly fine. One of the downsides of the phone is that it doesn't support 4G data.
GPS on the phone works for me only after using the MTK GPS fix. It has the same problems as all other Mediatek powered phones do (in particular the MTK6589/T powered phones). Thankfully the fix works which means that the internal antenna is routed properly and is of decent quality. It's a shame though that the fix requires you to have a onetime data connection to download the satellite data (AGPS and EPO) so don't count on it if you're overseas without data.
As mentioned previously, the phone runs on a custom Android OS (4.2.2) dubbed MIUI V5. It is constantly updated as and when there are fixes to be made and features to be added. Do note that the MIUI support for the Hongmi is slightly lacking compared to their flagship devices (their latest flagship, the MI3, is currently on MIUI v5 based off Android 4.3). Nevertheless the features are mostly identical and is one of the best custom Android OS available in the market. The phone software features will be discussed in detailed in the next section.
One thing to take note of the phone is that it supports features that are only available for Xiaomi devices. It works similar to your iOS devices such as iCloud, iMessaging etc. Xiaomi has their own cloud system in place for users and anyone can get free cloud storage space when you sign up an account with them (you must have an account to buy from them anyways). Called the MiCloud, it allows you to sync data, share things with your friends, backup etc. It also has its own "Find My Phone" feature available. If you and the receiving end are both using Xiaomi phones, you will also be able to capitalize on the cloud messaging function. It is really neat this whole system that Xiaomi put together and having the opportunity to use it is definitely welcomed.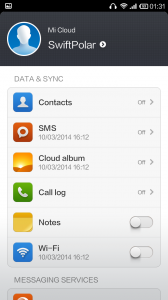 Battery life on the phone is superb. It must be the efficiency of the OS as well as the quality of the battery that Xiaomi put together that allows for such long battery life. I've managed to pull out 2 days worth of medium usage before it finally died off. To be more specific, I've watched videos and browse the web (using 3G data connection) for a total of 5 hours, sent a few messages (SMS and WhatsApp) and received one to two calls. On top of that it had another 30+ hours of standby (all with 3G on and syncing enabled). It is amazing how long the phone can last. For extreme heavy phone users, it should survive long enough before you go to bed. The phone allows for interchangeable battery anyways so whenever you're running out you can simply swap it for another battery.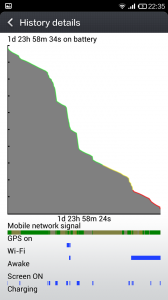 Another neat thing about the phone is that it supports USB OTG function. This meant that you can plug in your card readers or USB drives and access using the phone. You don't usually see such a feature available on Chinese phones priced similar to the Hongmi. Heck, you don't usually see this available on any phones at such a price.
Phone Software (MIUI V5)
The MIUI was one of the first few custom OS that I tried out (flashed on my Galaxy S) and absolutely loved. The overall aesthetic and functionality is comparable to the likes of all your other bigger international phone manufacturers. It is probably one of the best custom Android OS available in my opinion. Of course this comes down to preference especially the aesthetic part but in terms of functionality, the MIUI is balanced for all kind of users.
The phone aesthetic is highly customizable and there are many different themes available for download. The lockscreen can be changed according to the theme as well. There is also a lite mode available that can be switched to (a phone restart is required) and the phone turns into a seemingly basic looking phone. Phone functionalities remains but font size is enlarged, navigation is simplified and the phone looks ready to be used by any kind of user (preferably more suitable for the older people). It is a nice touch and even a smarter decision to include such a feature knowing that the phone being lower priced might be purchased for an elder.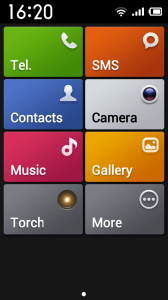 The MIUI launcher follows a similar format to the iOS. The app drawer is totally ditched and all applications are available on the home screen. It works alright but some people might prefer the app drawer to keep their home screens more minimalistic. Long pressing on an empty space will allow you to go into edit mode and to add widgets. Shifting two icons together will create a folder. One minor yet pleasing feature of the launcher is that some icons are dynamic. For example the icon for the calendar app will change according to the real date and the weather app will display the latest temperature. Overall, it is definitely not the launcher that will please everyone but I believe it should work great for the majority.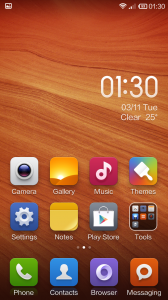 The lockscreen works pretty well too. You have access to all vital information (the default lockscreen that is) and shortcuts to the most important apps (messaging, phone, camera and unlock) are there for you. Double tapping the main button will access music playback controls. Long pressing the main button will allow you to sneak peak at notifications if any (messages etc).
MIUI also comes with their phone management app that allows you to check for viruses, manage battery, notifications, permissions, blocklist as well as data usage. Some of the more noteworthy features of the management app is the ability to customize app permissions in the individual level. Battery management also have a few options to choose from, allowing you to conserve battery by turning of selected features at scheduled times or battery percentages.
The notification drawer has your usual notifications and on top of that a scrolling data usage statistics bar. That is a really nice touch especially for people that do not have unlimited data. No more need for any additional data usage app to clog up your precious notification space and phone memory. The quick settings panel is customizable in terms of the placement of toggles. Notification and quick settings can be combined together by selecting a different style. On default, notifications and quick settings are on their individual pages and can be switched to and fro by swiping.
The default phone apps look decent and performs their tasks and functions efficiently as well. From the dialer to messaging, everything works perfectly fine. They are all also user friendly and anyone can simply open them up and use each app without much difficulties. The default music player isn't the best in terms of navigation but works alright for basic music playback. One thing that is present in the phone software is the built in equalizer. Not sure exactly how it interacts with other media apps but I did try out with the default music player and it works perfectly fine.
One stand out feature of the phone is the ability to customize your earphone button functions. The phone has the option to choose whether your earphone buttons work for music playback functionality or for volume. You can assign the buttons to different functions as well. A really neat function.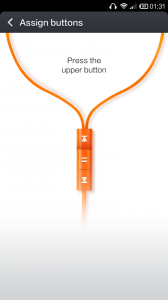 All in all MIUI is a great custom Android OS both in terms of functions and aesthetic appeal. There aren't as many gimmicky features as other custom OS but the most important ones are all present and works perfectly well.
Gaming Performance
The pairing of the overclocked Mediatek quad-core MTK6589 processor, the single core SGX544 graphics processor and the 720P resolution display is a god sent for people looking to game on their Hongmi phone. While the phone does not house best mobile graphics processor, it works perfectly well for the 720P resolution. Demanding games such as Real Racing 3 looks smooth at most times with just some frame rate drops occasionally but nothing game breaking. If you're looking to play on this phone, it will surely fit the bill. A larger screen size might be more satisfying but small sizes does have their benefits too.
Camera
The camera on the phone is pretty decent for photo taking. That cannot be said for video recording though. It might be due to some settings gone wrong (there aren't many anyways. In the sample video I simply recorded at 1080P and that's about it) but I'm not too sure. Photos taken by the camera looks sharp and vibrant. It is comparable to all your higher end phones. Videos on the other hand looks really blur and pixelated. The sound recording is also slightly muffed. Overall it is decent considering the price you are paying.
https://www.youtube.com/watch?v=Sue7w855vmY
Download unedited photos: Mirror 1
Official and Community Support
If you're looking to flash a custom ROM on your Xiaomi devices you will probably be out of luck. On the other hand, the official support for the phone and the custom MIUI OS is incredible. The support you get from the Xiaomi is similar to the likes of other major international brands such as Samsung, HTC and Apple. They have two really populated official forums. One for their phones in general (Chinese language though) and another one for their OS (MIUI) both in English and Chinese. It is kind of understandable though for the huge amount of English support for the OS since it is flashable on other phones as well.
They do update their MIUI OS quite frequently as well. It isn't just bug fixes and minor updates but they do also provide major upgrades too. Overall, the official support for the phone is great but it definitely isn't as robust in the custom ROM or mod scene.
Conclusion
The Xiaomi Hongmi (or Redmi) is one of the best phone you can buy at this price range (under $200 SGD). It is incredible how much you are getting for with the amount of money you are paying. The custom Android OS, the official support, the magnificent build quality and the decent hardware specifications make this phone a heaven sent. The only problem you will face is actually getting the phone itself. Stocks are extremely limited on their official shops and if you were to buy from resellers, you will have to pay a premium over the suggested retail price which makes it compete with the likes of other budget phones such as the Motorola Moto G. The lack of 4G data connection might put off some but honestly speaking it shouldn't be much of a problem in my opinion.
[starreviewmulti id=1 tpl=31]