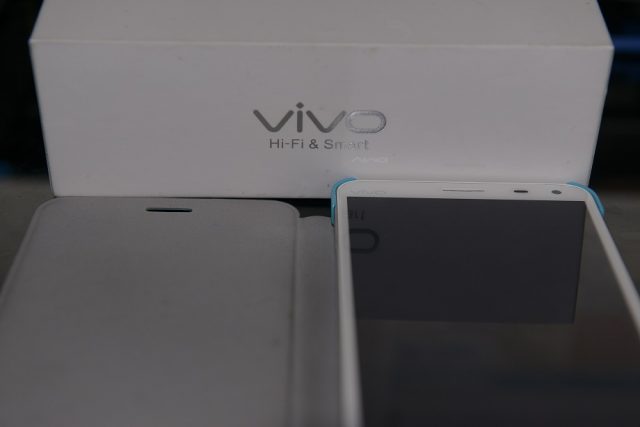 Chinese phones are known for their budget price and great value. There are, however, premium Chinese phones out there that are within the price range of your common brands' flagship devices say the Samsung's Galaxy Note 3, HTC's HTC One and so on. Chinese phone maker Vivo makes phones that fall into such a category. They do have their budget selections but today we will be reviewing their flagship device. The Xplay [Two models: X510W (WCDMA version) and X510T (TD-SCDMA version)] is a premium phone that comes with unique features and amazing hardware. There is a successor (Xplay 3S) in the works but for now let us review their current, in the market, flagship the Xplay.
Phone Specifications
| | |
| --- | --- |
| General Info | |
| Brand | Vivo |
| Model | Xplay X510W |
| Dimensions | 153.8*79.68*7.99mm |
| Price | $515 USD (16GB) $580 USD (32GB) (at time of publication) |
| | |
| Network | |
| SIM | Single Micro-SIM |
| 2G Network | GSM 850/900/1800/1900MHz |
| 3G Network | WCDMA 2100MHz |
| | |
| Display | |
| Size | 5.7" |
| Resolution | 1080*1920 |
| Type | IPS |
| | |
| Hardware | |
| CPU | Qualcomm Snapdragon 600 @ 1.74ghz |
| GPU | Adreno 320 |
| | |
| Memory | |
| RAM | 2GB |
| ROM | 16/32GB |
| Expansion | None |
| | |
| Camera | |
| Front | 5.0MP |
| Back | 13.0MP w/ LED Flash Light |
| Video | 1080P @ 30FPS |
| | |
| Features | |
| OS | Android 4.2.2 JB (Custom) |
| GPS | Yes |
| WLAN | 802.11 b/g/n |
| Battery | 3400mAh |
| Bluetooth | Yes |
| USB | microUSB v2.0 |
| Others | FM Radio |
| | WLAN Display |
| | NFC |
| | OTG |
| | WLAN Display |
Video Review
Written Review
Do note that the set that I've gotten was used before and the earpiece (supposedly somewhat premium) was missing. I am thus unable to review the stock earpiece provided. In addition, the version reviewed was the 16GB model. The specs, besides the internal storage, between the 16GB and 32GB models are identical.
I strongly recommend you to watch the video review (after or before reading, just watch it for a better understanding) mainly because the phone has many unique touches to it that it is easier for me to explain speaking and showing in a video rather than with written words.
Packaging and Accessories
The Xplay comes in a very plain white box. For the price you are paying, you would expect much more. The plain white box doesn't speak much about the phone except for a few words referring to the brand, phone model and the company's tagline. For a phone of such dimensions, you would expect the box to be bigger. In fact, the phone is just slightly smaller than the box itself. Overall, the exterior packaging of the phone doesn't give it much of a premium feel.
Lifting the box cover up, you will be greeted with the amazing phone wrapped neatly in some kind of plastic wrapper. Indeed, don't judge a book by its cover but knowing that you already paid so much for the phone, it is not unreasonable to expect a little more effort on their part.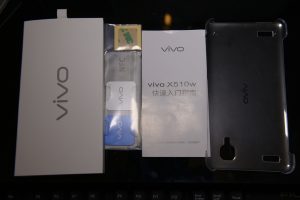 Upon lifting the phone up, you will see the usual envelope thing that houses the phone manual, SIM eject pin (similar to the iPhone), some warranty details, NFC tags and a back cover. A layer below houses the earpiece as well as a box containing the charger, USB cable and an OTG cable.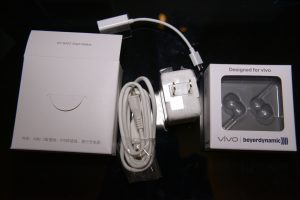 Overall, the packaging is very similar to your other budget Chinese phones. It is sad to say that it does feel cheap at first look and definitely isn't worth the price that you had paid. I mean it isn't exactly bad but for a premium price you would expect a more premium packaging and feel. It is nice though, to see that they did include their own earpiece that is technically better than your average stock earpieces provided by other phone makers. It is after all touted as a media phone (explained in the audio section), thus the better earpiece for you to experience the phone in a better way.
Design and Build Quality
First impressions aren't the best. What about the phone itself? That is where you finally find the value in your purchase. The phone feels solid at first touch. There is this heft to the phone that isn't exactly too heavy but sufficient enough to make you feel contented with the premium that you've paid for it.  The materials used to build the phone do feel much more solid than your common Chinese phones. I believe the back is made of high quality plastic and the front has some form of glass (gorilla glass as advertised by retailers) covering and protecting the phone display. It does have the good kind of plastic feel similar to the Samsung Galaxy S4.
The phone does not have a removable back and the battery is built in the phone (non-interchangeable). SIM card access (micro-SIM) is at the left side of the phone and it can be ejected using a tool similar to the iPhone's SIM eject tool. Looking towards the right side you will see an unusual placement of both the power button as well as the volume rocker. At the bottom you have the micro-USB port and at the top the 3.5mm audio jack. I didn't exactly like the placement of the volume rocker mainly because it is way too close to the power button. It makes accidental power off presses rather common when adjusting the volume.
There are 3 capacitive buttons at the front with the usual functions of "menu", "home" and "back". There is a LED indicator at the front but I would prefer it to be brighter as it is quite hard to see. The phone speakers' placement is at the back both towards the top and bottom. A front speaker would be more efficient but after using the phone speakers they seem to do just fine (pretty loud in fact).
Overall, the build quality is fantastic, the phone definitely worth its "premium" tag. Phone design is pretty much common except for the questionable placement of the volume rocker.
Display
The 5.7 inch 1080p full HD display is gorgeous. The high resolution makes everything look extremely sharp, vivid and beautiful. The high resolution is especially useful for text reading and web browsing. The extra pixel density is definitely helpful when font size isn't the biggest or when you want to squeeze more content to read at a go. The screen at max brightness is bright enough for use under the glaring sun.  The lowest brightness is low enough for you to not strain your eyes too much in the dark. Pretty neat that they allow such adjustments as many phones' lowest brightness is usually still too bright.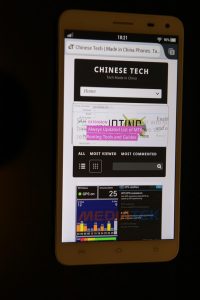 5.7 inch may be a little too big for many people in terms of one-hand operation but putting that aside, multimedia browsing and viewing with it is just an amazing experience. Watching videos is more satisfying and web browsing is easier with the extra screen estate. In addition, there seems to be a glass protecting the display as well, pushing away worries and fears of spoiling that pretty screen.
Synthetic Benchmark
Phone Performance
The premium price tag isn't just for show. The phone packs a powerful set of hardware. The CPU and GPU of the phone are comparable to flagship devices such as the HTC One and Galaxy S4. In fact, it uses the same chipset as the HTC One. With that said, the phone performs as smooth as you expect it to be. Simple day to day task doesn't tax the phone at all. Internet browsing, watching of videos, messaging, multitasking and switching in between apps all work perfectly fine. There isn't much to complain about the general smoothness and responsiveness of the phone. To be honest, I haven't yet face a situation where the phone feels sluggish or slow. Everything seems to run butter smooth.
In term of phone functionality, calls work well and are clear at both ends. I have yet to drop any calls and the signal strength is generally good. Comparing phones in identical locations, the Xplay sometimes have a slightly better signal than the others. The phone does not support LTE or 4G but other than that the data connection is generally good and reliable. I do need to point out that the WIFI signal of the phone is actually pretty good (better than average). For example in some spots in my house where some devices can barely find the wireless router, the Xplay is able to get a decent enough connection. If you're wondering about the GPS, rest assured that it works as it should and is definitely miles better than the other Chinese phones that use the budget Mediatek GPS chip.
The internal battery is rated at 3400mAh and is considered to be higher than normal. It is nice though considering that it has a pretty large screen. With the 1080p resolution at 5.7 inch screen size to display, the expected power drain is compensated with the larger battery. Taking into consideration the fact that the battery is built within the phone and isn't interchangeable, more is always better to prevent any power outages in unfavourable timings.
With that said, the phone lasts pretty well throughout the day. I've managed to squeeze out around 4 hours of web browsing (3G data connection) and an hour of videos (local storage). With that, I still had slightly over 11 hours of normal usage time (3G on throughout. Occasional WhatsApp messaging, normal SMS messaging and a few calls). That brings the phone to around a total of 16 hours of usage before it completely dies off. To put it simply, the battery life is fantastic. I would also like to point out that the phone charges at quite an impressive speed. It took me less than 8 hours to charge a totally dead phone to full capacity. Pretty efficient I must say.
There is one feature of the phone that I'm unable to test out and that is the WLAN Display function. The phone supports outputting to a wireless monitor. You can thus project your videos, pictures etc wirelessly to that monitor for bigger viewing. From what most people say online, it does work.
There is just one major gripe I have with the phone and that is the lack of external storage support. Indeed, the phone supports USB OTG, allowing you to connect an external HDD to the phone using the cable. But honestly for a phone touted for its media prowess, the lack of storage space and expansion to keep all those huge high quality audio files in the phone is simply ironical. The usable space I've got on a fresh install is slightly under 10GB. My current iTunes library (I'm no audiophile thus I do not have any FLAC files or uncompressed audio stuff), 9.44GB. That meant that if I were to transfer my library over there will not be any space for any other data. There is of course the 32GB edition but 32GB? Sooner or later that will run out and the same problem will arise.
Phone Software
The phone comes with its own Vivo OS based on top of Android 4.2.2. They do provide frequent updates when necessary and these updates can be downloaded and applied on the air. The settings menu, notification bar and menu as well as the default launcher deviates quite a bit from stock Android OS. It is more of an opinion kind of thing but what I can assure you is that the compulsory features such as the notification bar and settings menu are all good enough for anyone to use. If you don't like the launcher, you can simply download another one. That's the beauty of an Android phone.
For a more detailed and clearer explanation and review of the phone OS, do watch the video review.
Launcher
The default launcher works a little bit like Apple's iOS. Downloaded and installed apps appear on the homescreen. You can shift them around, put them together to create folders and add widgets to the homescreen. There are themes that you can apply and can be downloaded off the manufacturer's own server (they have an app that facilitates all these). Deleting apps work similar to the iOS. Long pressing on a single icon will result in editing mode. You can then shift the positions or simply delete a particular app.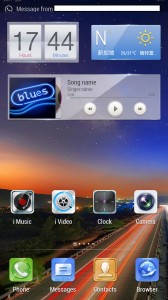 Besides choosing the icon themes, you can also change the way and type of lockscreen. There are various lockscreens that you can choose from. Basically it covers almost all major phone manufacturers' unique lockscreen style and looks. It is pretty neat actually if you're looking for lockscreen customizability and not wanting to download any additional app. There is this "Scene unlock style" that gives you somewhat like an interactive lockscreen. It is gimmicky and isn't all that practical. For fun and amusement, yeah it should provide some of that.
The launcher has two different types. First is the standard one which you should be seeing by default. The other is the "Scene Launcher" (selectable from menu when in homescreen). Similar to the scene lockscreen, it is pretty much useless besides the little fun you should have when you first chance upon it. Check out the video review for more details.
Overall, the launcher works fine and would work well for anyone. However if you would prefer a more stock experience or even a better unique experience, there are many launchers out there that will fit your purpose. They should also provide even more customizability as compared to the stock launcher (widget resizing, overlapping etc).
Stock Apps
There are some stock apps that differ from Google's stock Android apps. For example, the phone has its own video and music player. If you're well versed in the Chinese market for streaming content, you should recognize the different services that are implemented within the stock media apps. The music app can be connected to Baidu's music server, allowing you to listen to online songs on the go. There are Chinese online radios as well that can be connected using the native music app.
The video app on the other hand has Chinese video streaming sites embedded within the app. There are Youtube like sites (Chinese variants) as well and videos that can be watched from within the app. If you're a fan of Chinese media say movies and dramas, you will be in for a treat!
One thing that the stock media app enables is the HIFI and sound effects feature that is unique to the Xplay. The phone boasts dedicated audio chips to help make sound quality better. By viewing or listening to media through the app, you will be able to enable different sound effects as well as the "HIFI" feature. Read the audio performance section for a more detailed review.
There is also this phone management app that allows you to perform simple tasks such as browsing the phone's cache, battery management and so on. It looks pretty nice and is also useful for all. It works similar to Android's default system management tools but the design of it matches well with the overall stock theme of the phone.
The phone also comes with its own Chinese app store. The Chinese app store does have the Play store there for you to download so do take note about this if you're purchasing the phone (Google Play Store is not installed by default). The Chinese app store works very similar to the Play store. Automatic updates are available, browsing of apps by the different categories etc. There might be some legal issues about the apps available in the Chinese app store as there are some paid apps within the store that can be downloaded for free.
Gestures
The phone supports quite a few gestures that are present in other flagship devices. For example, there is the double tap to wake the phone (LG G2), wave to unlock phone and browse photo gallery and "smart keep bright" (similar to Samsung's Smart Stay). Other neat features are things like auto waking of phone when you take it out of your pocket, shaking the phone to open specific apps and many others that utilizes a waving motion (reject calls) or light detection (answer call when put close to ear).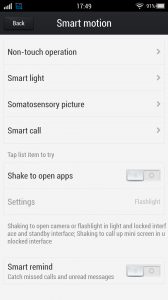 Honestly, I am extremely impressed with these few additions to the phone. It is great when they take all the different unique features from different phone manufactures and put them together into one wholesome awesome package. Indeed people may cry foul over such a tactic but as consumers we should simply be happy that we are paying one price for all the different features.
There is just one problem though. The gestures don't work perfectly well. Sometimes double tapping on the screen doesn't make it wake up. It seems that the detection part of the system went to sleep together with the screen. There are times when the phone performs quite finicky when using the waving motion as well. It definitely needs some smoothing out but if you're wondering about the general functionality of these gestures, they do work most of the time.
Multitasking and Mini Screen
The phone supports multitasking similar to that of the first generation of the Samsung Galaxy Note 10.1. It is, however, limited to their own apps such as the note taking application, video player, music player and messaging. It is a nice touch but it would be better if custom applications can be used in such a manner.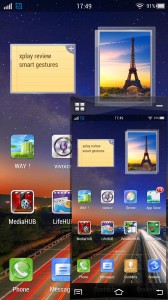 In addition, there is a feature called "mini screen". Vivo recognizes that the Xplay is pretty big for one hand usage. To allow you to continue using the phone with one hand, a mini screen can be enabled anbd is located at the bottom corners of the phone. The mini screen acts as if it were the main screen and pressing anything in the mini screen will result in the same actions as if you touch the main screen. It's a pretty neat feature and I can foresee that it will be useful for some individuals.
Chinese Siri/Google Now "vivoice"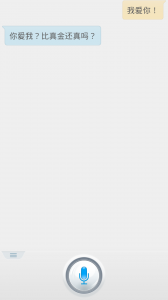 The phone has its own "Siri" and "Google Now". It is basically a Chinese variant and for people who have set up their phone in any other languages besides Chinese, it will not work well. It does recognize my horrible Chinese pronunciations but I am unable to launch much commands. For example calling someone from your contacts list requires the contact to have a Chinese name. Many things are localized as well. I tried searching (in Chinese) "Where is the nearest MacDonalds" and it went straight to China. It does work though for phone specific commands such as setting an alarm, asking for the date and so on.
Funtouch OS
At this very point of time, there is a brand new OS (currently in BETA phase) for the phone (Funtouch OS) and this will be reviewed in a separate post. Link will be updated here once the review/overview is up.
Gaming Performance
The powerful graphics chip allows for smooth 1080P gaming. I have tried several games, known to be graphically intensive and taxing, and none of which has resulted in any drastic lags and frame rate drops. Gaming on a full HD 5.7 inch display screen is amazingly fun. It feels as though you're playing on a proper handheld gaming console. In fact, the larger screen allows for some great emulation and facilitates a better experience with games that require on screen controls.
I must say the phone dimensions make it feel especially comfortable when held in a controller way. It is almost as if it was design to be held in such a manner. For mobile gamers out there, this is a great device for you, especially if you are into old school emulation gaming.
Audio Performance
One of the unique selling points of the phone is the implementation of a dedicated audio chip. The phone houses an OPA2604 operational amplifier from Texas Instrument, providing you with better than usual audio output. On top of that, there is a dedicated DAC (CS4398) and a stereo asynchronous sample-rate converter (CS8422). Now I'm no audiophile so I do not know exactly how those different components are supposed to help improve audio quality. I do know, however, that many phones' audio output is apparently horrendous and they cannot power those higher end headphones without the aid of an external amplifier.
The dedicated amplifier as well as DAC will allow for a better translation and reproduction of the sound source to your headphone/earpiece. This also meant that you will not need any additional amplifier if you have one of those headphones with high impedance. With all that said, I went ahead to test out the audio output using my own headphone, another different phone for comparison and my computer plugged with a USB DAC. The headphone I am using is a Sennheiser HD598. I maintain the same source by putting the exact same music file into all three devices.
The 3 different setups:
Vivo Xplay > HD598
Generic Android Phone > HD598
PC > Fiio E7 > HD598
For audiophiles out there looking for a more detailed and in-depth explanation and review of the audio quality, look away as there is none here. All I can say though is that the performances of setup 1 and 3 are extremely similar (I don't have the sharpest and brightest pair of ears to differentiate them). On the other hand, setup 2 made me realize how badly different sound quality can be. I have never paid much attention to notice such a thing before. The general clarity of the playback is lacking in setup 2.
So is there a difference? Yes! There is a difference and it is a subtle but pleasant one. However, for people who are serious into audio and music there are perhaps better budget dedicated music players out there. I wouldn't know exactly but for me, the audio output of the Xplay is certainly better than the average phone out there.
Besides that I would also like to point out the amazing speakers the phone has. It is extremely loud and performs much better than your regular phone speakers. Vivo themselves have pointed out the specialness of their speakers, saying something about using a better magnetic circuit in the speaker. All technicalities aside, the performance in real life just proves the point that it has great phone speakers.
Camera
The 13.0MP camera at the back of the Xplay performs pretty well for still images. Compared to the photos captured by the THL W8S, the images taken by the Xplay are much sharper and clearer. Despite both devices having 13.0MP cameras, the Xplay should have the better sensor. Check out the sample photos for more information. (Original unedited images are available for download). As for the video capturing, the camera performs pretty well. The sound recorded is something that I have to commend. It seems to be able to filter and soften the noise in the background. Overall the camera does perform its function and does it in a decent manner.
Download unedited photos: Mirror 1
Official and Community Support
The official support for the phone is outstanding. With a brand new OS on the way (currently in beta), the phone has already received quite a few official updates since release to fix bugs and introduce tweaks to improve the phone. There is a robust Chinese community in their official forums and it is pretty active there. There are also a variety of accessories (both official and by other retailers) available for the phone.
The community support for the phone is pretty robust as well. There are both Chinese and English developers working on different custom ROMs for the phone. For example, there is a Chinese developer working on a MIUI v5 ROM and another English developer in XDA having released a close to stock Android ROM for the phone.
The custom ROMs are nice but to fully utilize the phone and all the different functionalities especially the gestures, you will have to use the official ROM. Besides the bloatware (which can be removed since you're rooted), the official ROM works generally well.
Conclusion
The Xplay is a fantastic phone and for its price, it isn't exactly cheap but the value of the phone certainly matches its price tag. If only there was some form of international warranty, the phone would be a great recommendation for those looking for a powerful premium phone. Otherwise, topping up a little more can get you a phone with similar performance and in addition warranty and a reputable brand that you can rely and trust.
The focus on better audio output certainly puts it apart from the rest of the competition. On top of that, it houses an extremely powerful CPU and GPU, a gorgeous screen and a competent modified Android OS to bring everything together. The only problem I have is the lack of additional storage support. Other than that, the Xplay is a phone that will last you for a while.