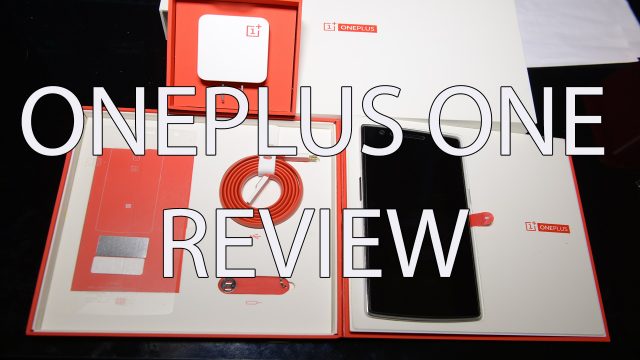 OnePlus One equals two! The OnePlus company is apparently started independently by the EX Vice President of OPPO. However, with further research you'll come to understand that the OnePlus Company is a subsidiary of OPPO. It comes with no surprise really seeing how similar their phones are both in terms of hardware and software. The OnePlus One phone is definitely priced to sell with phone featuring some of the best hardware available. How exactly does it perform? Read on to find out more.
Phone Specifications
| | | | |
| --- | --- | --- | --- |
| General Info | | | |
| Brand | Oneplus | | |
| Model | One | | |
| Dimensions | 152.9 x 75.9 x 8.9mm | | |
| | | | |
| Network | | | |
| SIM | Single Micro-SIM | | |
| 2G Network | GSM 850 / 900 / 1800 / 1900MHz | | |
| 3G Network | WCDMA 850 / 900 / 1700 / 1900 / 2100MHz | | |
| 4G Network (CN) | Bands 1 / 3 / 7 | | |
| 4G Network (Intl) | Bands 1 / 3 / 4 / 7 / 17 / 38 / 40 | | |
| | | | |
| Display | | | |
| Size | 5.5" | | |
| Resolution | 1080 x 1920 | | |
| Type | LTPS LCD w/ Gorilla Glass 3 | | |
| | | | |
| Hardware | | | |
| CPU | Qualcomm MSM8974AC Snapdragon 801 | | |
| GPU | Adreno 330 | | |
| | | | |
| Memory | | | |
| RAM | 3GB | | |
| ROM | 16 / 64GB | | |
| Expansion | None | | |
| | | | |
| Camera | | | |
| Front | 5.0MP | | |
| Back | 13.0MP | | |
| Video | 2160 @ 30FPS | | |
| | | | |
| Features | | | |
| OS | Custom Android 4.3 / 4.4.2 | | |
| GPS | Yes w/ A-GPS and GLONASS | | |
| WLAN | 802.11 a/b/g/n/ac | | |
| Battery | 3100 mAh | | |
| Bluetooth | v4.1 | | |
| USB | microUSB v2.0 (OTG) | | |
| NFC | Yes | | |
Video Review
Written Review
Do note that the review is based off the Chinese edition of the phone. There isn't any difference between the international and Chinese edition besides the shipped OS as well as the lack of certain frequency bands on the Chinese version. That said, I've used the phone with the latest official CM ROM for the first two weeks before switching to the custom ROM Paranoid Android to test some things out. Review of Color OS can be seen in the one done for the OPPO Find 7A. As for CM itself, there are plenty of reviews that are already available out there that speaks of it. I will thus not be going to review it in-depth.
Packaging and Accessories
The OnePlus One comes in an attractive looking red box that is flipped open from the side. From there, you will be greeted with the phone. Lifting the phone up with the upper layer, you will be greeted with a set of accessories that are all themed in red which I really like. You get a flat data/charging cable, a pin eject too and a set of manuals and warranty information. The whole color scheme sure looks great and the accessories are all of decent quality.
Overall, packaging and accessories of the OnePlus One is good considering the price point of the phone.
Design and Build Quality
The phone comes in two different colors: Sandstone black and silk white (fancy names for black and white). The one I've got is the white version and it does look pretty good. It being white does get quite a bit of stain and dirt marks after some time. That said, it can all be cleaned.
The phone features a rather familiar design with the volume rocker and power button at the left and right sides respectively. At the top you got your audio jack and at the bottom you got your microUSB port and the speakers. I do appreciate having speakers anywhere else but the back. I still feel that speakers at the front provides the best performance though. Not sure why companies seldom adopt that design choice (besides HTC).
Build quality is great as well. It feels sturdy and strong to the touch and with the slight heft to it, does give the vibe of a device that will definitely last you for quite some time. While the OnePlus One doesn't have anything spectacular about it, it sure is good enough to be categorized as a value money premium phone.
Display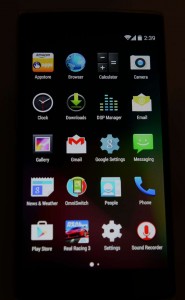 Having reviewed so many phones already, the display is as good as the rest. Colors look vibrant enough and brightness adjustment is decent for use under direct sunlight (reflections will make it hard to look at sometimes but definitely still usable). The 5.5" display makes an enjoyable experience when consuming your media content and mobile games.
Synthetic Benchmarks
Phone Performance
General usage of the phone is extremely smooth and I faced absolutely no slowdowns at all. The phone is extremely responsive and powerful enough to run any kind of apps that are available. In terms of phone functions, voice calling is clear, and all your messaging and whatnot works perfectly fine. The only problem comes the signal strength and stability.
This seems to be a recurring issue among many OnePlus One owners. Signal strength isn't the strongest for both data and normal phone signal. Signal strength aside, the phone does lose connection quite frequently while on the move. The phone simply loses all connection and it takes a while before the phone reconnects. This problem seems to lie in the auto switching of bands by the phone.
By disabling LTE and simply setting the phone to use 3G instead, the problem seems to be fixed for the most of it. Hopefully it is something to do with the software and not the hardware of the phone. The reason why this review is delayed is because I wanted to try out different ROMs to see if the issue persists. It does but the severity of it seems to fluctuate between different ROMs.
Signal issues aside, GPS works perfectly fine. Locking of position is quick and accurate and once locked, it tracks pretty well.
In terms of battery life, the phone does last for quite some time. It isn't the longest battery performance I've experienced on a phone but for what it is, it will definitely satisfy the needs of most medium to heavy users. For a normal work day with roughly 2 hours of screen usage, you can certainly get home with slightly over 50% of battery. I've managed to pull out 4 hours of screen usage and another 42 hours of stand-by time with the CM ROM running. Different ROMs will have different battery life but for most of them they all do last you for at least a day.
Gaming Performance
The phone does handle the more graphically intensive games out there. That said, it is weird that it doesn't seem to perform as well as phones with similar specifications. For example, Real Racing 3 on the OnePlus One is smooth for most parts of it but there are still some stutters every now and then, something that I didn't notice on the OPPO Find 7A. Not sure what is going on but nevertheless, the phone is definitely capable of handling demanding games.
Camera
Same camera as with the OPPO Find 7A. Do refer to my review of the Find 7A's camera for thoughts of the OnePlus one's camera.
Official and Community Support
Both official support and the community for the OnePlus One phone is immense. You got so many different ROMs to choose from, so many tweaks to apply, add-ons to add and so on. There are two officially supported ROMs for the device: Color OS and CyanogenMod. Other than that, many popular ROM developers have ported and provided full support for the device as well. One of the more popular ROMs that you might have heard of is Paranoid Android. Just look at the XDA dedicated section for all your modification needs!
Conclusion
The OnePlus One phone currently sells on an invitation basis (switching over to pre-order fulfilment process soon). People lucky enough to get an invitation will be able to purchase the phone at the best price available. For those going through resellers and third-parties, you will find that the price is definitely slightly marked up. That said, for the premium price that you pay, the phone does live up to its price tag. If you are able to get it at its original price, the phone is one of the most value for money devices out there in the market.
For people wanting to try out different kinds of ROMs and simply love to tweak their devices, the OnePlus One phone is an absolute dream device. For people who simply want a working phone that has decent hardware and an affordable price tag, this phone is also for you. Besides the signal issues that I've mentioned before, the phone definitely deserves much praise and recommendation.